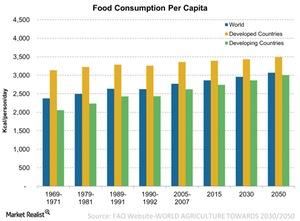 What's Driving Food Consumption?
By Adam Jones

Jan. 13 2017, Updated 8:17 a.m. ET
Limited land
In the previous part of this series, we saw that arable land available per person in 1993 was 0.25 hectares (~0.62 acres). That shrunk to 0.19 hectares (~0.47 acres) per person in 2013. Over that same 20-year period, food needs increased and are expected to rise in the future. Let's see what's driving the increase in food consumption.
Article continues below advertisement
Increasing food needs
Over the years, food consumption per person has increased. From 1969–1971, food consumption per capita around the world was ~2,373 calories per person per day, which has gradually increased over the years. It's expected to reach ~3,070 calories per person per day by 2050, according to an FAO (Food and Agriculture Organization) working paper, "World agriculture: towards 2030/2050."
Most of the increase in food requirement will take place in developing countries because the standard of living is expected to improve in those countries. So there's a critical need to increase the production of food.
Companies solving the problem
Companies within the agribusiness sector (SOIL) such as Monsanto (MON), Syngenta (SYT), FMC (FMC), and DuPont (DD) are working on the issues of limited arable land and increasing food consumption. But solving the problem is a mammoth task.
In the next part, we'll take a look at the challenges and solutions for meeting the needs of a growing population.