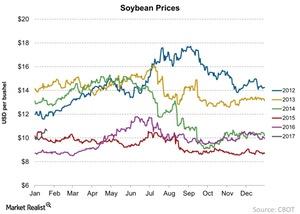 How Soybean Prices Moved in January 2017
By Adam Jones

Jan. 20 2017, Updated 11:35 a.m. ET
Soybean ending stocks
In its January report, the USDA (United States Department of Agriculture) said that the world's ending stock for soybeans fell slightly to 82.3 million metric tons from 82.9 million metric tons in December. This drop has primarily come from a decline in month-over-month production by about 0.15 million metric tons. Let's look at how this decline impacted soybean prices.
Article continues below advertisement
January prices
Given the decline in global stocks, soybean prices continued to rise in January. Global soybean prices on January 20, 2017, were 4.5% higher than they were on December 20, 2016. On a 30-day trailing basis, on January 20, corn prices were 4.6% higher at $4.14 per bushel as compared to $3.96 per bushel in December 2016. The upward movement in soybean prices is consistent with a downward movement in global corn stocks as we discussed above.
Soybean and corn prices are still lower than the past five-year average, which explains why farm income has been falling over the years. In the near term, an environment of low crop prices won't generate excitement in the seed and fertilizer sectors.
Soybean prices are important to track. By looking at these trends, we can get some insight into the fundamentals of seed companies like Monsanto (MON) and Syngenta (SYT). These trends can also help us understand the fundamentals of fertilizer companies like Archer Daniels Midland (ADM) and Bunge (BG) as well as a broader portfolio of ETFs such as the Materials Select Sector ETF (XLB).