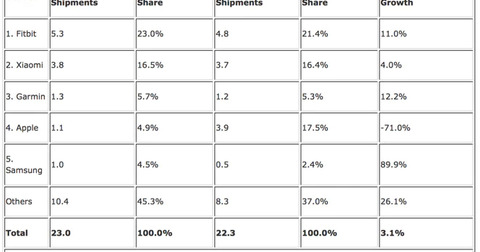 How Has Fitbit Suffered from a Slowing Wearables Market?
By Adam Rogers

Updated
Why are wearable device sales falling?
The holiday season is very important for technology consumer companies such as Fitbit (FIT), Apple (AAPL), Samsung (SSNLF), and Garmin (GRMN). Sales in 4Q16 are normally the highest for these companies. However, a report from market research firm eMarketer points out that demand for the Apple Watch and Fitbit trackers have been lower than earlier predicted. It was estimated that 40.0 million consumers would use a wearable device at least once a month in 2016. The earlier forecast was 64.0 million.
eMarketer also predicted 87.0 million monthly users of wearable devices in 2019. That figure has been revised to 52.0 million. Wearable device manufacturers are finding it increasingly difficult to expand sales beyond early market adopters.
According to eMarketer analyst Nicole Perrin, "Without a clear use case for smart watches—which have more features than fitness trackers, but significant overlap with smartphone functionality—the more sophisticated, expensive devices have not caught on as quickly as expected."
On December 27, 2016, Fitbit stock rose 7.4%. That came after a report that the ranking of its free app (application), which is available on the App Store, soared to the top on Christmas Day. How this uptick in app ranking could impact Fitbit's 4Q16 revenues remains to be seen.
Article continues below advertisement
Slowdown in the wearables market
Although Fitbit still leads the wearables market, the overall market grew 3.1% YoY (year-over-year) in 3Q16 when the company shipped 23.0 million units. According to IDC (International Data Corporation), Fitbit is estimated to have shipped 5.3 million units with a share of 23.0% in the wearable devices market in 3Q16.
Xiaomi came in second for 3Q16, with shipments of 3.8 million units and a market share of 16.5%. Apple fell to third place when shipments fell 71.0% YoY to 1.1 million units and market share came in at 4.9%.
Samsung (SSNLF) and Garmin (GRMN) are the other leading players in this segment, with shipments of 1.0 million units and 1.3 million units, respectively.
In 2Q16, total unit shipments rose 26.1% YoY, from 17.8 million units to 22.5 million units. However, IDC expects the worldwide wearables market to grow at a CAGR (compound annual growth rate) of 20.3% from 2016 to 2020. Total shipments are projected to rise from 79.0 million in 2015 to 101.9 million in 2016 and 213.6 million in 2020.
In the next part, we'll take a look at Fitbit's competition.