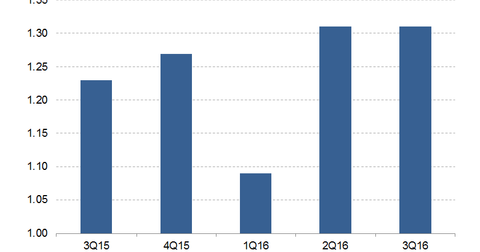 How Selling Its Core Assets to Verizon Will Change Yahoo!
By Ruchi Gupta

Updated
Yahoo! will change its name
Yahoo! remains hopeful that Verizon (VZ) will acquire its operating assets despite its recent disclosure of major breaches in its system. 
After Yahoo! sells core Internet assets to Verizon, however, it won't stay the same. The company disclosed in a regulatory filing that it intends to shrink its board of directors and change its name from Yahoo! to Altaba after it completes its deal with Verizon.
Yahoo! has agreed to sell its Internet operations, which include Yahoo! Finance and Yahoo! Sports, to Verizon for ~$4.8 billion. However, the company's disclosure of a fresh hack that affected more than 1 billion accounts appears to be delaying the closing of the transaction, as Verizon is taking time to review the impact of the hack. Yahoo! said in its filing that Verizon could walk away from the deal or renegotiate the terms of the deal. The transaction is expected to close in 1Q17.
Yahoo! has struggled to grow its Internet operations revenue amid stiff competition for digital ad spending from Google, Facebook (FB), and Twitter (TWTR).
Article continues below advertisement
Mayer and other directors leaving Yahoo! board
After eliminating its operating business, Yahoo! is set to cut its board of directors as it becomes Altaba. Six current directors, including CEO Marissa Mayer, will leave. However, Mayer will remain with Yahoo! as it becomes part of Verizon. Mayer joined Yahoo! in 2012 from Alphabet (GOOGL) when it was called Google.
Altaba will be a holding company of stakes in Yahoo! Japan and Alibaba (BABA). Yahoo! was an early investor in Alibaba. According to Evercore, Yahoo!'s stake in Alibaba accounts for ~61% of its value, while Yahoo! Japan accounts for ~13% of its value. The Internet assets Yahoo! is selling to Verizon make up just ~10% of its value.