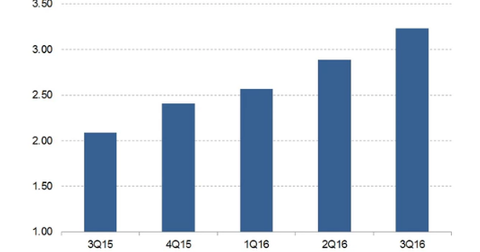 Understanding Salesforce's Partnership with Amazon—And Why It Matters
By Anne Shields

Updated
Canada AWS is the first Salesforce supported region
In mid-2016, Salesforce (CRM) announced a partnership with Amazon.com (AMZN). Salesforce chose Amazon's AWS (Amazon Web Services) as its public cloud infrastructure provider. It also agreed to spend $400 million on AWS services over the next four years.
Lately, Salesforce extended its partnership with Amazon. AWS infrastructure in Canada, marked the first AWS region, which was supported as part of Salesforce's global infrastructure efforts.

Article continues below advertisement
By partnering with Amazon, Salesforce would be working with the biggest name in the cloud space. Moreover, this would reduce the competition posed by Amazon's operations. In 2016, according to investment research firm Jeffries, Salesforce partners have identified Amazon as the "third biggest threat to Salesforce," after Microsoft (MSFT) and Oracle (ORCL).
Amazon runs its data centers all across the world. This shift to Amazon's AWS could mean more flexibility for Salesforce, as many countries have data sovereignty laws that require customer data to be kept in the native country.
Salesforce-Amazon deal: no more reliance on Oracle
In any case, the Salesforce-Amazon partnership is not good news for Oracle, which is struggling to find a significant foothold in the cloud. For a long time, Salesforce has been dependent on Oracle databases and other software. Despite the competition posed by open-source databases, Oracle (ORCL) continues to be a leader in the DBMS (database management systems) space. However, Oracle's databases also carry a substantial price tag.
According to Fortune, Constellation Research analyst Holger Mueller stated: "It does not make sense for Salesforce to operate two cloud infrastructures." Mueller added that the Amazon-Salesforce deal likely means that "Salesforce will move off its own Oracle-based architecture."
Mueller also stated that Salesforce becoming a partner of Amazon is "a big deal for AWS as it is the first time it snatches major enterprise software workload since it got Infor a few years ago."