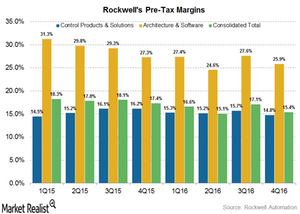 Rockwell Automation's Key Operating Metrics: Investor Must-Knows
By Sheldon Krieger

Updated
Rockwell Automation's pre-tax margins
Rockwell Automation (ROK) reports its sales under two operating segments: Architecture & Software and Control Products & Solutions. In 2016, ROK's Architecture & Software segmented accounted for about 45% of company's total sales.
We should note here that pre-tax profit margins are used to determine the profitability of a company. Higher pre-tax margins imply more profitability.
Historically, the Architecture & Software segment's pre-tax margins were higher than its Control Products & Solutions segment. For fiscal 1Q16, the pre-tax margin of ROK's Architecture & Software segment came in at 27.4%, as compared to the Control Products & Solutions segment's 15.3%.
The company's consolidated pre-tax profit margin stood at 16.6%. For 1Q17, analysts' expect that the company will report a pre-tax profit margin of 16.0%.
Article continues below advertisement
Free cash flows
Free cash flows are derived by subtracting company's capital expenditure from its operating cash flows. This excess cash can be used in reducing debt, paying dividends, and funding acquisitions. The company also uses free cash flows as a financial measure for its annual incentive compensation.
For 4Q16, Rockwell Automation's free cash flows came in at $235 million. For fiscal 2016, ROK's free cash flows stood at $834 million, as compared to $1.1 billion in 2015. The YoY (year-over-year) decrease was primarily due to lower operating cash flows on account of lower sales in 2016.
Share repurchases and dividends
According to company filings, Rockwell Automation returned about $5.4 billion to its shareholders in the form of dividends and share repurchases between 2008 and 2016. Rockwell Automation purchased about 4.6 million shares of its common stock under company's share repurchase program in 2016 at a total cost of $500.2 million. At the end of fiscal 2016, Rockwell Automation had about $945 million remaining for share repurchases under its existing board authorization.
On January 20, 2017, Rockwell Automation had a dividend yield of 2.16%, as compared to Honeywell International's (HON) 2.26%, Emerson Electric's (EMR) 3.26%, and AMETEK's (AME) 0.71% in the industrial (XLI) automation space.