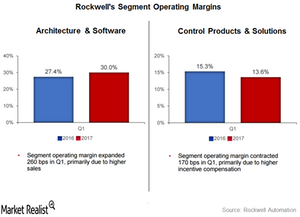 Pulling Back the Curtain on ROK's Fiscal 1Q17 Operating Performance
By Sheldon Krieger

Updated
Segment operating margins
Segment operating margins are used to determine the operating performance of Rockwell Automation's (ROK) revenue-generating segments. The company excludes purchase accounting depreciation and amortization, general corporate net expenses, non-operating pension costs, interest expense, and income tax provision while calculating its segment operating margins. A higher segment operating margin implies more profitability from the segment's operations.
Article continues below advertisement
Historically, Rockwell Automation's (ROK) Architecture & Software segment's (or A&S) operating margins were higher than the company's Control Products & Solutions (or CP&S) segment. For fiscal 1Q17, Rockwell Automation reported an increase of 260 basis points in its A&S operating margins to 30.0% due to higher sales on a YoY basis. The company's CP&S segment's margins contracted 170 basis points to 13.6% due to higher incentive compensation.
However, ROK's overall segment operating margins expanded 50 basis points to 21.2% from 20.7% in fiscal 1Q16. Also, the company reported a higher pre-tax margin of 17.3% compared to 16.6% during fiscal 1Q16. Improved sales and lower fiscal 1Q17 spending helped the company report higher operating margins on a YoY basis.
Rockwell Automation's ROIC
It's not hard to see why ROIC (return on invested capital) has become an important metric in the investment community. Businesses raise capital from debt and equity investors, and they invest this capital in operations that they expect will make more money than the cost paid to borrow it.
If a company's operations don't generate the cost of capital going forward, investors might not be willing to bet their money on it. ROIC is reached by dividing after-tax operating profits by invested capital. Invested capital is calculated by subtracting cash and cash equivalents from the sum of debt and equity.
For the same amount of invested capital, a company with high ROIC must have high operating margins. High operating margins can be derived only by creating sustainable barriers that prevent price-based competition.
For fiscal 1Q17, Rockwell Automation (ROK) reported an ROIC of 34.6% compared to 32.6% reported for fiscal 1Q16. On December 31, 2016, Rockwell's ROIC was higher than its peers Emerson Electric (EMR), AMETEK (AME), and Honeywell International (HON) in the industrial (XLI) automation space.
In the next part of this series, we'll learn about Rockwell Automation's fiscal 1Q17 net income and cash flows.