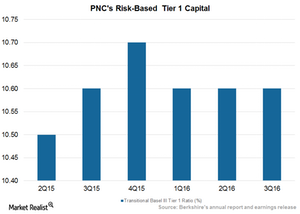 PNC's Payout Ratio Is Expected to Be High in 2017
By Robert Karr

Jan. 10 2017, Updated 9:07 a.m. ET
Building capital strength
PNC Financial Services (PNC) is expanding its balance sheet on the back of new assets and expanding offerings. The company's transitional and pro forma fully-phased Basel III common equity Tier 1 capital ratios were an estimated 10.6% and 10.2%, respectively, on September 30, 2016.
These strong Tier 1 capital ratios were supported by the company's strong credit quality, which remained similar between 2Q16 and 3Q16. In 4Q16, these ratios are expected to be in line with the previous quarter's. The company's total deposits and assets are expected to rise as the valuations of its various asset classes rise.
Article continues below advertisement
PNC Financial's non-performing assets fell 6% to $2.4 billion in 3Q16. Its net charge-offs rose to $154 million, compared to $134 million in 2Q16. A rise in deposits, a strong capital position, and improved asset quality helped PNC's total assets to rise on a year-over-year basis to $369 billion on September 30, 2016.
In comparison, PNC's peers' yields were as follows:
Together, these companies form 1.8% of the SPDR S&P 500 ETF (SPY).
Repurchase program
PNC Financial continues to have high payout rates. The company returned $0.8 billion to its shareholders in 3Q16, a total of 52% of its total net income. It provided these returns in the form of share repurchases totaling $0.5 billion and dividends totaling $0.3 billion.
PNC repurchased 5.9 million shares in 3Q16 for a total of $0.5 billion, out of an approved total of $2 billion to be repurchased over the four quarters ending in 3Q17. The company also raised its quarterly dividend $0.05 per share to $0.55 compared to the previous quarter. Its dividend payout translated to a dividend yield of 1.9%.
These capital actions are consistent with the company's capital plan, which was accepted by the board of governors of the Federal Reserve in June 2016.
In the next part of the series, we'll look at PNC's long-term prospects and valuations.