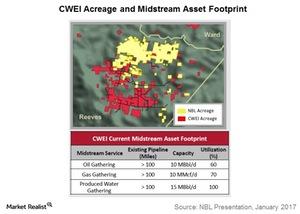 NBL's CWEI Acquisition to Enhance NBLX's Permian Basin Scale
By Rekha Khandelwal, CFA

Jan. 18 2017, Published 8:02 a.m. ET
Noble Energy acquires Clayton Williams Energy
On January 16, 2017, Noble Energy (NBL) announced an agreement to acquire all of the outstanding common stock of Clayton Williams Energy (CWEI) for $2.7 billion in stock and cash. The acquisition significantly enhances Noble Energy's position in the Delaware Basin.
Relating to the potential drop-down opportunities to Noble Energy's MLP, Noble Midstream Partners (NBLX), David Stover, Noble Energy's chair, president, and CEO, stated, "In addition to the benefits driven by larger scale, the midstream assets and planned buildout provide significant synergies and substantial dropdown potential in association with our ownership in Noble Midstream Partners."
Article continues below advertisement
The acquisition further enhances NBLX's Permian Basin scale and drop-down inventory. Clayton Williams Energy's existing acreage is largely undedicated for oil, natural gas, and produced water gathering. The above image shows how CWEI acreage is contiguous to Noble Energy acreage, contributing to NBL's Delaware expansion. The table above shows CWEI's current midstream asset footprint.
Midstream value
Noble Midstream Partners is installing a central gathering facility on NBL acreage. The facility is expected to be operational in mid-2017. Noble Energy anticipates an incremental three to five central gathering facilities on the acquired CWEI acreage. These would likely be dropped down to NBLX.
Noble Midstream Partners completed its IPO in September 2016. Noble Midstream Partners provides crude oil, natural gas, and water-related midstream services to Noble Energy in the DJ Basin and the Delaware Basin through long-term fixed-fee contracts.
In the next article, let's take a look at analyst recommendations for NBLX.