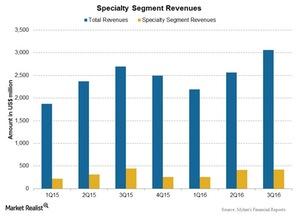 Mylan's Specialty Segment: The Effect of Falling EpiPen Sales
By Mike Benson

Updated
The Specialty segment
Mylan's (MYL) Specialty segment includes the development and sales of branded specialty products. These products include injectables and nebulized products focused on respiratory and allergy therapies.
The segment reported a 4.0% fall in revenues to $418.7 million in 3Q16. Revenues were $437.8 million in 3Q15.
The fall in revenues was driven by lower sales and lower wholesale purchases of the EpiPen Auto-Injector in anticipation of the generic version. The company announced the generic version in August 2016 and launched it in December 2016. Lower sales were partially offset by sales of its Perforomist inhalation solution and Ultiva.
Let's take a detailed look at these products:
Article continues below advertisement
EpiPen Auto-Injector
The EpiPen Auto-Injector is an emergency treatment for anaphylaxis, a life-threatening allergic reaction. EpiPen is approved as the first-line treatment of anaphylaxis and useful in allergic reactions caused by insect and bee stings, seafood, peanuts, medicines, and other allergy-causing substances. The company launched a generic version of the EpiPen in December 2016.
The EpiPen Auto-Injector competes with Sanofi's (SNY) Auvi-Q, Amedra Pharmaceuticals' Adrenaclick, and Lineage Therapeutics' epinephrine injection.
Perforomist inhalation solution
Perforomist inhalation solution is a twice-daily, long-acting bronchodilator used for the treatment of chronic obstructive pulmonary disease. It's a maintenance treatment, not a rescue treatment.
Perforomist competes with Novartis's (NVS) Foradil Aerolizer, GlaxoSmithKline's (GSK) Advair, and AstraZeneca's (AZN) Symbicort.
Other drugs in Mylan's Specialty segment include Ultiva, an analgesic agent; Emsam, an antidepressant; DuoNeb and AccuNeb nebulized products; and Easivent breathing devices.
To divest your risk, you can consider ETFs such as the SPDR S&P Pharmaceuticals ETF (XPH), which holds 4.5% of its total assets in Mylan.