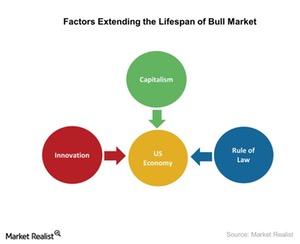 Mario Gabelli Says Capitalism, Innovation, and Law Drive the US
By Sarah Sands

Updated
Mario Gabelli on the US economy
Billionaire investor Mario Gabelli discussed the outlook for the US economy in his recent CNBC interview. When asked about whether Donald Trump's win extended the lifespan of the bull market, Gabelli said no. In his view, capitalism, the rule of law, and innovation are backing the US economy and US markets (SPY)(VFINX).
According to Gabelli, capitalist sentiment is one of the important drivers of the US economy (IWM) (IVV). Trump's proposed changes to various regulations and proposed less regulatory environment for businesses are important factors for the US market (VOO) (IVV).
Article continues below advertisement
Change in tax rate
Gabelli also said that companies are feeling better. They're planning for new investments in the economy. Corporate tax deductions and individual tax deductions should be a great advantage for the economy. Companies may record higher revenue in the coming years. The economy may experience higher inflation growth and higher interest rates. Higher interest rates could marginally impact the company's gross margin. But deductions in tax rates should increase companies' net profit, which would also increase shareholder value.
Innovation
Innovation should play an important role in the economy. The new government is mainly focusing on increasing economic growth and creating jobs. They may remove unproductive policies. Policies that show greater improvement and innovation should play an important role.
According to Gabelli, these factors are driving the lifespan of the bull market and market movements. The economic indicators are also improving. As the economy strengthens, the central bank may continue its gradual rate hike process.
In the next part of this series, we'll analyze Gabelli's view of inflation expectations.