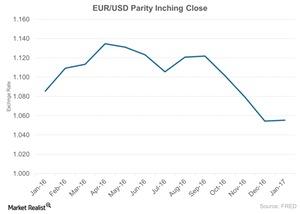 Is Dollar-Euro Parity Back?
European trade surges as dollar-euro parity gets close
The exchange rate between the euro and the US dollar is getting closer to parity, or equivalence, with the weak economic prospects and political turmoil in Europe. Dollar-euro parity would mean that one euro trades at one dollar.
Since May 2016, the euro has been sliding and saw the biggest drop of around 7% in December. As you can see in the graph above, the EUR-USD rate has been declining as inflation in the US surges ahead that of the Eurozone. Other reasons for the euro's plunge include the following:
stronger growth fundamentals in the US
loose monetary policy as compared to the US
the political instability of its member nations
Higher inflation in the US as compared to the Eurozone tends to increase the value of the dollar, and the euro is expected to depreciate as the dollar gains strength. Dollar-euro parity may have the following outcomes, as suggested by Oxford economist Taha Saei:
imports to increase in the Eurozone by about 9%, as compared to 2009
increased price flexibility of exporters in the US to meet the excess demand in the Eurozone
increased imports of US goods, leading to an increase in the supply of euro, thereby decreasing its value
Policymakers in the Eurozone will thus need to watch the euro's exchange rate carefully to avoid any surprises in its inflation expectation.
Article continues below advertisement
Notably, EUR-USD rose ~0.39% on January 20. The UltraShort Euro (EUO), which measures the inverse daily performance of the dollar price of the euro, lost ~0.61% on January 20, while the Guggenheim Currency Shares Euro Trust (FXE) gained ~0.33%. The ADRs (American depositary receipts) of European stocks rose as manufacturers edged up, and the gainers included Continental Europe (CGG), Advanced Accelerator Applications (AAAP), Materialise (MTLS), and ArcelorMittal (MT).
We'll discuss the effect of the euro's depreciation on EU trade with the US in the next part.