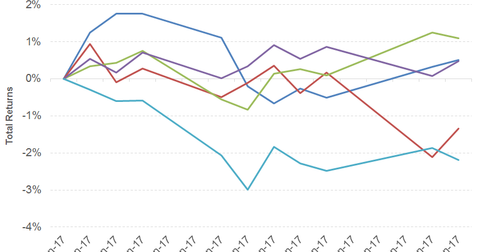 Why Are Investors Flocking to Safer Bonds?
By VanEck

Jan. 20 2017, Published 10:28 a.m. ET
VanEck
2017: A Unique Supply and Demand Dynamic in Muni Bonds
Fixed income suffered a bit of a reversal in fortunes after the surprise results of the 2016 U.S. presidential election. Having recorded steady gains throughout the year, by the end of November much of these gains had been erased by continuing uncertainty regarding the president-elect's tax and spending plans as well as the U.S. Federal Reserve's decision to raise the federal funds' rate 0.25% on December 14. However, the resulting precipitous drop in fixed income also served as a tax-loss harvesting opportunity not seen in municipals since 2013.
Article continues below advertisement
Add to that the roughly $46 billion worth of calls and maturing bonds that came due at yearend, and there is a tremendous amount of cash (demand) that will need to be redeployed into fixed income this month. Even if half of this cash finds its way back into muni bonds, demand will almost certainly outstrip the current supply expected.
Market Realist
          A brief background
Treasuries recorded a spike in yields last year due to the sell-off after Donald Trump's victory on November 8, 2016. The sell-off was in anticipation of further Fed rate hikes after the December hike, tax cuts, and inflationary expectations driven by Donald Trump's trade embargo and infrastructure policies. Municipal yields follow Treasury yields. Investors were more attracted to the stock market (SPY) (IVV) (VOO) and the dollar instead of the safety of bonds and gold (IAU) (GLD).
Article continues below advertisement
Sectors hit year-to-date
However, the lack of clarity over Trump's tax and infrastructure policies in his news conference on January 11, 2017, followed by his verbal attack on pharmaceutical companies' (XLV) drug prices has taken a toll on some stocks and sectors. The energy sector (XLE) has also been hit by lower oil and natural gas prices. The rally in the financials sector (XLF) also came to a halt as doubts surfaced over Donald Trump's policies and their timing.  Investors flocked back to historically lower-risk Treasury bonds.
Growing demand for Treasuries
That growing demand for Treasuries led to rising prices and dropping yields. Investors have again started adding bonds to their portfolio despite the possibility of Fed rate hikes. Investors' affinity toward bonds could also be due to the January Effect, which is driving prices north after tax-loss harvesting in late 2016. This phenomenon started in November 2016.
Article continues below advertisement
Municipal bond chronicles
The returns on municipal bonds have dropped ~3% on average since Donald Trump was elected in November 2016. Debt and capital market activity have recorded a significant slowdown in the pre-trade market for corporate securities and municipal bonds, which was probably driven by higher interest rates and post-election uncertainties. According to the CUSIP Issuance Trends Report for December 2016, municipal bonds have recorded a drop of 27% in muni identifier requests to 900. However, they have managed to clock in a growth rate of 6% on a year-over-year basis for the same as well as for total municipal asset classes.
Municipal bond mutual funds have recorded an inflow of over $790 million for the week ended January 11, 2017, according to Lipper Alpha, which marked the first inflow since the widespread outflow of over $17 billion in municipal bond funds after the US presidential election results. More than half of the inflow was driven by Nuveen High Yield Municipal Bond Fund (HYMB).
The S&P Municipal Bond High Yield Index (HYD) has recorded the best performance compared to the S&P Municipal Bond, the Treasury Bond, and the Corporate Bond indexes post-election. The S&P Municipal Bond High Yield Index outdid the rest both on a yearly basis and on a year-to-date basis. Treasury bonds, especially long-term bonds, recorded a dipping trend in their yield. Every bond index in the above chart has recorded growth in January as investors have started putting their money in bonds due to the lack of transparency of Donald Trump's policies as a part of their attempts at tax loss harvesting.