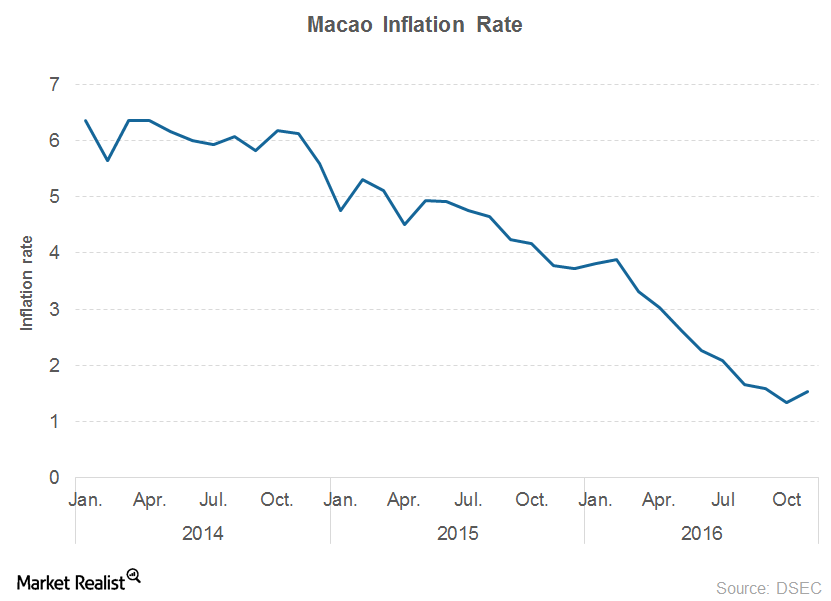 What Do Macao's Inflation Figures Indicate?
By Ally Schmidt

Jan. 6 2017, Updated 9:06 a.m. ET
Inflation rate
Inflation is a general increase in the price of goods and services in an economy, leading to the fall in purchasing power of money. Annual inflation in Macao fell to 1.5% in November 2016. Inflation has in fact been on a declining trend since February 2016, when the inflation rate was at 3.9%, according to the data released by the Statistics and Census Service.
The low inflation rate was on account of the slower increase in prices for the highest weighing components of the index. The prices of food and non-alcoholic beverages, which form 29% of the index, rose 2.1%, while housing and fuels, which have a 27% weight, fell 1.4%.
Transport, which forms 11% of the index, saw a 6.7% price rise, while miscellaneous goods, which have a 9% weight, rose 1.9%.
Clothing and footwear (6.5% weight) rose 0.4%, recreation and culture (4.8% weight) fell 0.3%, household appliances (3.3% weight) rose 0.61%, health (3% weight) rose 4%, education (2.9% weight) rose 7.4%, communication (2.5% weight) fell 2%, and education (2.9% weight) rose 7.4%.
The composite consumer price index rose 2.5% year-over-year for the first 11 months of 2016.
Article continues below advertisement
Government measures
The government of Macao has announced that it will distribute about $1,127 to each permanent resident and about $676 for each non-permanent resident this year under its "Wealth Partaking Scheme." The measure is essentially to ensure that all Macanese citizens share the benefits of the region's economic development. The measure also helps to mitigate the effects of the rising inflation in the region.
Takeaway
Growth in inflation reduces the purchasing power of the consumers since their spending capacity falls. Thus, the decline in inflation is positive for casino companies such as Las Vegas Sands (LVS), MGM Resorts (MGM), Wynn Resorts (WYNN), and Melco Crown Entertainment (MPEL), as people would have higher disposable income to spend on leisure activities and borrowing would become less expensive for these companies.
Investors seeking diversified exposure to casino companies may be interested in ETFs that invest in casino stocks like the VanEck Vectors Gaming ETF (BJK). Investors can also invest in the WisdomTree Dividend ex-Financials Fund (DTN), which holds 1.6% in LVS.