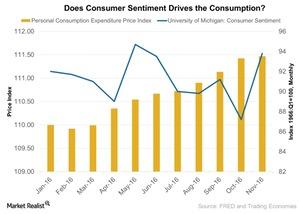 How Does Consumer Sentiment Increase Overall Activity?
By Mary Sadler

Feb. 6 2017, Updated 8:48 p.m. ET
Income and wealth effect increases consumption
Gorman says that the positive market sentiment has been driving consumption among consumers. The income effect and the wealth effect from various assets goes a long way in influencing the bull run (XLP) (VDC).
Article continues below advertisement
Income and wealth effect on consumer sentiment
Recently, consumers have experienced gains in income and wealth that support their spending. The consumption spending was weak at the beginning of 2016. In the last quarter, it showed improvements of 0.3% as compared to the previous quarter with the rise in durable goods sales (HRG) (F) (GM) (GPRO). The improvement in the labor market has also supported income growth. Wages rose 3.5% as of November 2016 as compared to the same period last year. The low energy prices have also boosted consumer purchasing power.
The wealth effect also includes the gain from the household net worth apart from other asset holdings. As of December 2016, the housing starts in the US rose 5.7% year-over-year. The housing market has also been upbeat in 2016 with the CoreLogic national index climbing about 6% as of September 2016 over the last 12 months.
The higher income level in 2016 has made consumers optimistic about economic performance. The consumer sentiment index rose 2% this year as of November 2016, as seen in the chart above. The Michigan survey studies households' views about their financial situations and economic conditions. Gorman advises retail investors to stick to index funds rather than look for opportunities in the market.
Considering all the positives, Gorman also advises investors to be cautious due to geopolitical risks. Let's consider the geopolitical risks and their effect on GDP around the world.