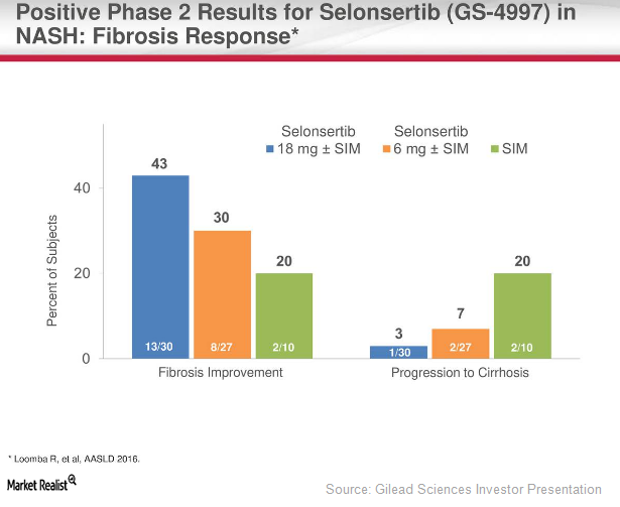 GILD's Positive Results from Phase 2 Trial Evaluating Selonsertib as NASH Therapy
By Margaret Patrick

Jan. 31 2017, Updated 9:05 a.m. ET
Selonsertib trial results
On November 14, 2016, Gilead Sciences (GILD) reported positive results from its Phase 2 trial in which an investigational therapy, Selonsertib, was studied as monotherapy or in combination with simtuzumab in nonalcoholic steatohepatitis (or NASH) patients with fibrosis scores of F2 or F3. Selonsertib is an oral apoptosis signal-regulating kinase 1 (ASK1) inhibitor.
Because there was no significant response even after treating patients with simtuzumab monotherapy for 96 weeks, the green bar in the above chart is considered to demonstrate responses from patients using a placebo. It can be seen that 43% patients on higher dosage of Selonsertib and simtuzumab and 30% on lower dosage of the combination regimen for 24 weeks witnessed regression in fibrosis.
Article continues below advertisement
Based on these results, Gilead Sciences has planned to commence Phase 3 studies evaluating the potential of selonsertib in NASH patients with fibrosis scores of F3 and F4. These studies are expected to continue until 2018. Gilead Sciences (GILD) is preparing to pose strong competition to other NASH players such as Allergan (AGN), Intercept Pharmaceuticals (ICPT), and Shire Pharmaceuticals (SHPG).
Other research programs
Gilead Sciences is also evaluating one oral Acetyl-CoA Carboxylase (or ACC) inhibitor, GS-0976, and oral farnesoid X receptor (or FXR) agonist, GS-9674, as monotherapy, in two Phase 2 trials. Data from these trials is anticipated in 2017. The company also plans to study these investigational drugs as combination regimens for NASH patients.
If Gilead Sciences can demonstrate efficacy and safety of these investigational drugs as a therapy for NASH patients, it may have a positive impact on GILD stock and the iShares Russell 1000 Growth ETF (IWF). Gilead Sciences makes up about 0.86% of IWF's total portfolio holdings.
In the next article, we will explore Gilead Sciences' oncology strategy in greater detail.