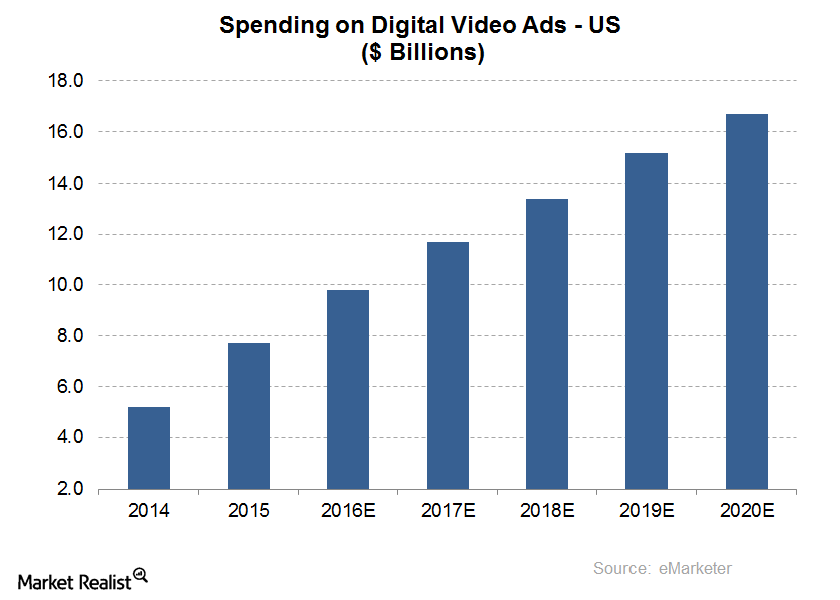 Why Is Facebook Looking to Change Its Video Ad Strategy?
By Ruchi Gupta

Nov. 20 2020, Updated 5:30 p.m. ET
Facebook prefers mid-roll of pre-load ads
Although Facebook (FB) is largely expected to make money off videos on its platform by inserting ads into them, it's been unclear how the company will do so. 
However, Facebook's video monetization strategy seems to have leaked, with insiders saying that the company prefers mid-roll ads over pre-load ads in videos, according to The Wall Street Journal.
Facebook's video rival, YouTube, which is owned by Alphabet (GOOGL), inserts pre-load ads in its videos, but the problem with pre-load ads is that viewers tend to skip them, leading to revenue losses. While Facebook's approach of inserting ads in the middle of videos may increase the chances of their being watched, the challenge comes when videos are only a few seconds long.
To overcome this problem, insiders say Facebook is restricting its mid-roll ads to clips that are at least 90 seconds long. The ads will appear after a viewer has watched a video for at least 20 seconds, with the ad's duration being limited to 15 seconds, according to Marketing Land.
Article continues below advertisement
Facebook partners with media companies for live video
Facebook's mid-roll ads will be enabled in live videos and regular streaming videos. Facebook is working with several media companies, including The New York Times (NYT) to publish live-stream videos in its Facebook Live feature as it seeks to popularize live video broadcasts on its platform. Some media companies are receiving financial support from Facebook to produce live videos, according to a Wall Street Journal report.
Besides YouTube, Facebook is set to battle it out with Verizon (VZ) and Twitter (TWTR) for online video ad spending.