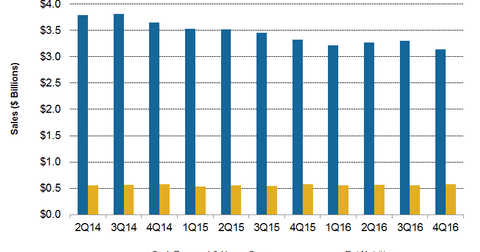 What Drove 4Q16 Organic Sales for Colgate-Palmolive's Segments?
By Gabriel Kane

Updated
Segment performance
Colgate-Palmolive's (CL) net sales fell 4.6% in 4Q16. However, the company's organic sales rose 1.5%, as we saw in the previous part of this series.
Colgate-Palmolive operates in the following two segments:
Oral, Personal, and Home Care
Pet Nutrition
In 4Q16, net sales for the Oral, Personal, and Home Care segment fell 5.4%. However, the segment's organic sales rose 2.0%.
Sales for the Pet Nutrition segment rose 0.50% in 4Q16 due to some favorable foreign exchange movement. The segment's organic sales remained flat as the positive impact of pricing was offset by lower volumes. This segment faced challenges with the pet facility channel.
Performance by region
The Oral, Personal, and Home Care segment accounted for ~85.0% of the company's overall sales in 4Q16. Sales fell as the favorable impact of higher pricing was offset by lower volumes and foreign exchange. In 4Q16, the segment derived 30.0% of its sales from Latin America, 25.0% from North America, 20.0% from Asia Pacific, 17.0% from Europe, and 8.0% from Africa and Eurasia. Colgate-Palmolive and Procter & Gamble (PG) together account for 16.0% of the Consumer Staples Select Sector SPDR ETF (XLP).
In Latin America, the segment's sales fell 10.5%, primarily due to the negative impact of foreign exchange and the deconsolidation of its Venezuela business. However, the region's organic sales rose 10.5%. The segment saw strong volume growth in Mexico, Columbia, and Argentina. It also saw strong growth from Colgate Triple Action and Colgate Maximum Cavity Protection.
In Africa and Eurasia, sales fell 1.5%. The region's organic sales fell 2.0% due to a 12.0% fall in volume, mainly due to a weakness in Sub-Saharan Africa and South Africa. Currently, this region is facing issues from some distributors due to liquidity problems in Sub-Saharan Africa.
In North America, the segment's 4Q16 reported sales, organic sales, and pricing remained flat. In the US region, higher volumes in two states were offset by declines in tooth brushes and liquid hand soap volumes.
In Europe, net sales fell 7.5% due to forex (foreign exchange) headwinds, a tough macroeconomic environment, and unfavorable retail conditions. The region's organic sales fell 3.5% due to lower volumes, mainly in France. The company was able to maintain its leadership in the toothpaste market in the region with 35.0% of the market share.
In Asia-Pacific, reported sales fell 4.0% due to a decrease in pricing and forex headwinds. But 4Q16 organic sales fell 2.0% due to unfavorable pricing and flat volume. The 4Q16 volumes in the region were impacted by the demonetization of the Indian currency.
Let's look next at the company's 4Q16 margins.