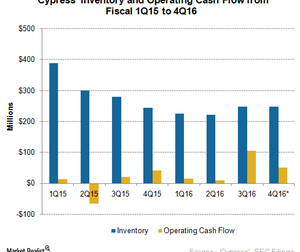 Does Cypress's High Debt Spell Liquidity Trouble?
By Puja Tayal

Updated
Debt repayment strategy
In the previous part of the series, we saw that the acquisitions of Spansion and Broadcom's (AVGO) wired IoT (Internet of Things) business has helped Cypress Semiconductor (CY) more than double its revenue in just two years. While the company's revenues have grown, so has its leverage.
At the end of fiscal 3Q16, Cypress had a long-term debt of $1.2 billion compared to a cash reserve of $87.6 million. The high leverage has strained the company's financial flexibility. The only short-term liquidity left with the company is the $213 million of undrawn credit revolver. The company's debt-to-adjusted-EBITDA (earnings before interest, tax, depreciation, and amortization) ratio is 3.6x. The company plans to reduce this ratio to 2.6x by the end of 2017 by channeling its FCF (free cash flow) towards debt repayment.
Article continues below advertisement
Cash flow
Speaking of cash flows, Cypress has been facing volatile operating cash flows. After the Spansion merger, Cypress's operating cash flow was in the range of $9 million–$42 million. However, its operating cash flow rose tenfold from $9 million in fiscal 2Q16 to $105.1 million in fiscal 3Q16 due to the addition of Broadcom's wireless IoT business.
Cypress aims to generate an operating cash flow of $150 million through incremental cash flow from the IoT acquisition. The company plans to use some of this towards dividend payment and the remaining amount towards debt repayment.
However, the company has undergone a major restructuring in 4Q16, which resulted in high cash outflow. Thus, its operating cash flow is likely to fall to ~$50 million in 4Q16.
Inventory
On the inventory front, Cypress completed its lean inventory initiative in fiscal 3Q16. The company started this initiative to reduce the high inventory Spansion brought after the merger. Since the Spansion merger, Cypress has reduced its inventory by 41%, or $160 million. Despite this, inventory rose to $247.7 million in fiscal 3Q16 as it included the $19 million in inventory Broadcom's wireless IoT business brought with it.
The company aims to maintain its inventory at the fiscal 3Q16 level in fiscal 4Q16 as well. It plans to do so by aligning its production with demand.
Next, we'll see how high leverage could impact Cypress's shareholders.