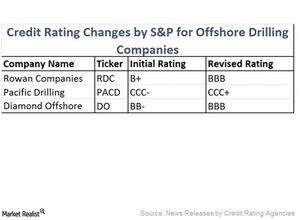 Credit Ratings for Offshore Drillers: Why They're Deteriorating
By Sue Goodridge

Jan. 16 2017, Updated 7:36 a.m. ET
Credit ratings for offshore drillers
Credit ratings can change over time, just as industry outlooks and companies change. But you should remember that changes in credit ratings can lag behind shifts in the market. That means credit ratings can confirm risks associated with a company but not predict those risks in advance.
Article continues below advertisement
Recent downgrades by Standard & Poor's
Standard & Poor's has downgraded Rowan Companies' (RDC) credit rating to B+ from BBB and has given it a "stable" outlook. B+ is the lowest investment-grade rating. The rating signifies a moderate chance of default.
According to S&P Global Ratings credit analyst Carin Dehne-Kiley, "The downgrade reflects our revised assessment for Rowan's business risk profile and our revised utilization assumptions for the company's uncontracted fleet, which results in higher leverage than we had previously anticipated in 2018 and 2019."
In November 2016, Standard & Poor's downgraded the credit rating for Pacific Drilling (PACD) to CCC- from CCC+ and assigned it a "negative" outlook. CCC- signifies a non-investment-grade rating, or a junk bond rating.
Standard & Poor's revised Diamond Offshore Drilling's (DO) credit rating to BB- from BBB and has a negative outlook on the company. BB- signifies a non-investment-grade, or highly speculative, investment.
Downgrades by Moody's
In 2016, almost all offshore drilling companies were downgraded by Moody's. Moody's has given Noble (NE), Rowan Companies (RDC), and Ensco (ESV) stable outlooks and credit ratings of "B1." A rating of B1 signifies a highly speculative investment. Notably, Diamond Offshore Drilling (DO) has a stable outlook and the highest credit rating of "Ba2" among its peers.
Seadrill Partners (SDLP) and Ocean Rig (ORIG) have credit ratings of "Caa2," the lowest ratings among their peers. That reflects a poor standing and a high credit risk. Atwood Oceanics (ATW) also has a negative outlook, with a credit rating of "Caa1."