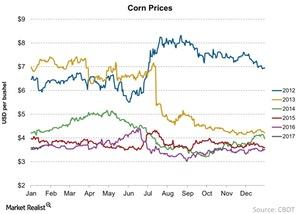 Why Corn Prices Moved Higher in January
By Adam Jones

Jan. 20 2017, Updated 10:05 a.m. ET
Corn ending stocks
Usually, ending stocks affect prices of corn. Higher stocks compared to use can lead to downward pressure on corn prices. In its January report, the USDA (United States Department of Agriculture) reported the world's ending stock for corn falling to 221 million metric tons from 222 million metric tons in December. This drop has primarily come from a decline in month-over-month production by about 1.8 million metric tons. Let's look at how this impacted corn prices.
Article continues below advertisement
January prices
Global corn prices on January 20, 2017, were ~4% higher than they were on December 20, 2016. On January 20, corn prices were 2% higher on a 30-day-trailing basis. Corn was trading at $3.55 per bushel as compared to $3.48 per bushel in December 2016 on a 30-day-trailing basis. The upward movement in corn prices is consistent with a downward movement in global corn stocks, as we discussed above.
Global corn prices are significantly lower than they've been for the past four years, considering the high global corn stock-to-use ratio last year.
How prices affect stocks
Any weakness in corn prices impacts farm income (SOIL). It also impacts agricultural companies like Terra Nitrogen (TNH), PotashCorp (POT), Archer Daniels Midland (ADM), and Pacific Ethanol (PEIX). To put this in perspective, net farm income in 2015 fell 38%, according to the US Department of Agriculture. Fertilizers' average dollars per planted acre for wheat, corn, and soybeans fell 7.8%, 7.1%, and 6.5%, respectively, in 2015.
Now let's discuss the global stock-to-use ratio for soybeans.