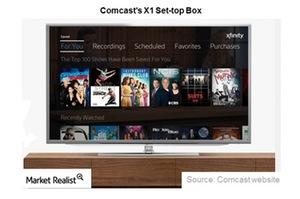 Is Comcast Seeking More Benefits from Licensing X1 Set-Top Box?
By Shirley Pelts

Jan. 12 2017, Updated 1:35 p.m. ET
Innovation for Comcast's X1 set-top box
So far, we've learned that Comcast's (CMCSA) X1 set-top box is driving its video business. In this article, we'll look at how Comcast intends to innovate when it comes to its X1 set-top box in the face of rising competition.
In December 2016, FierceCable reported that Comcast had licensed its X1 set-top box to Canadian company Rogers Communications (RCI). Rogers plans to launch the service with added 4K content in early 2018.
Early last year, Comcast also licensed its X1 platform to Cox Communications and Shaw Communications (SJR).
Article continues below advertisement
Benefits of licensing the X1 set-top box
Comcast stated at the Wells Fargo Technology, Media, & Telecom conference late in 2016 that the licensing of its X1 set-top box had less financial benefits for X1 and more benefits in other areas. According to the company, its licensing of X1 would result in the deployment of X1 outside its footprint, resulting in possible revenue-generating opportunities in the future.
These opportunities include advertising across a broader footprint and the electronic sell-through of media. Electronic sell-through is a form of media distribution in which users pay small fees to download movies, music, or games and store the files on their hard drives.
Comcast stated that it would explore these opportunities with those partners to whom it had licensed X1. It also stated that it would keep investing in X1 and that it was interested in the licensing of X1 to more distributors.