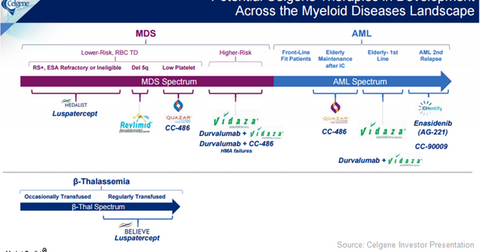 Celgene Is Advancing Research in Myeloid Disease Segment
By Margaret Patrick

Updated
Myeloid disease segment
In addition to luspatercept and enasidenib, Celgene (CELG) is also exploring other investigational drugs such as sotatercept and CC-486 (oral azacitidine) to treat patients suffering with various myeloid diseases. On December 5, 2016, Celgene and Acceleron Pharma announced preliminary data from an ongoing Phase 2 trial that's researching the use of sotatercept in patients suffering with myelofibrosis. The trial enrolled 19 patients, and 14 of them received at least five doses of sotatercept. About 36.0% of the 14 patients demonstrated an anemia response, a key endpoint of the trial.
According to Mayo Clinic, "Myelofibrosis is a serious bone marrow disorder that disrupts your body's normal production of blood cells. The result is extensive scarring in your bone marrow, leading to severe anemia, weakness, fatigue and often an enlarged spleen."
If sotatercept continues to demonstrate efficacy and safety as a potential treatment for myelofibrosis, it may have a positive impact on Celgene stock and the Vanguard Total Stock Market ETF (VTI). Celgene makes up about 0.38% of VTI's total portfolio holdings.
Article continues below advertisement
CC-486 clinical trial data
The above diagram is a snapshot of Celgene's research pipeline in the myeloid disease segment. It includes investigational drugs as a monotherapy or combination therapies with other agents.
Celgene is currently exploring CC-486 in myelodysplastic syndromes (or MDS) patients, relapsed/refractory acute myeloid leukemia (or AML) patients who have previously received hypomethylating agents (or HMA), and chronic myelomonocytic leukemia (or CML) patients.
Various dosages of CC-486 were delivered in the three Phase 1 and Phase 2 trials, which together enrolled 22 MDS patients, two CML patients, and 11 AML patients. All of them had received previous HMA therapy. The overall response rate was 38.0%, which has provided proof of concept for the efficacy of this drug.
With its strong early-stage pipeline focused on areas with significant unmet demand, Celgene can pose tough competition to other oncology players such as Amgen (AMGN), Merck & Co. (MRK), and Pfizer (PFE).
In the next part, we'll look at prospects for Celgene's investigational CC-122 drug.