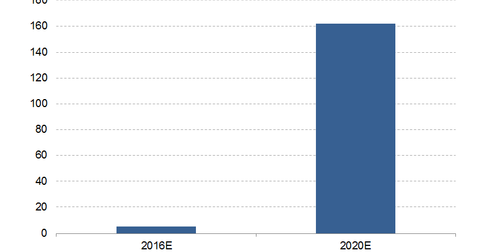 Can Facebook Dominate the Virtual Reality Scene?
By Ruchi Gupta

Updated
Facebook's move could stir the virtual reality market
Facebook's (FB) acquisition of the Eye Tribe, a Danish startup that develops eye-tracking software, is likely to escalate competition in the virtual reality (or VR) and the augmented reality (or AR) market. The global AR and VR markets are forecasted to be worth $162 billion in 2020, up sharply from $5.2 billion in 2016, according to IDC.
With the technology that the Eye Tribe is bringing on board, Facebook's VR unit Oculus could build more advanced VR gears that can be controlled by simple eye movements.
The software has multiple potential uses
In a 2014 interview with the TechCrunch, Eye Tribe cofounder Sune Alstrup explained how its eye-tracking software could be applied to any kind of consumer device. For instance, he said the software could be integrated into a gaming console to enable players to fire shots using the eye or into vehicles to detect if the driver is falling asleep behind the wheel.
Although Facebook is not known to be developing autonomous vehicle technology, it sounds like the Eye Tribe's eye-tracking software could be useful to Alphabet (GOOGL), Apple (AAPL), Ford (F), General Motors (GM), and other companies working on self-driving vehicle technologies.
As for Facebook, Oculus could use the Eye Tribe's technology to radically transform its VR headsets and give the products the differentiation they need to beat the competition. Besides Google, Oculus competes with Sony (SNE) and Microsoft (MSFT) in the VR and AR markets.
Facebook and Google in race to own VR/AR technologies
Facebook's acquisition of the Eye Tribe comes shortly after Google's move last October to acquire the Eye Tribe's competitor Eyefluence.