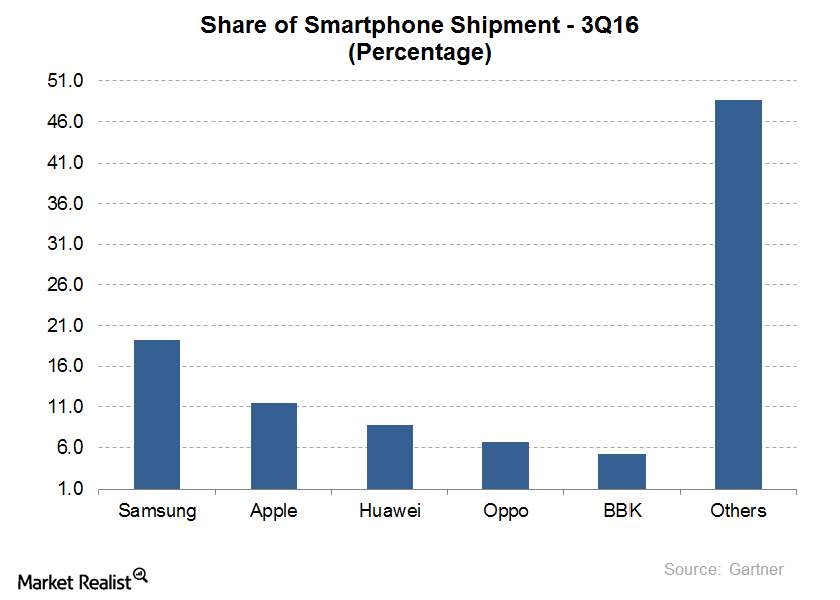 Are Apple and Facebook Up to Something Fishy in China?
By Ruchi Gupta

Nov. 20 2020, Updated 4:06 p.m. ET
Apple eliminates NY Times app from China App Store
After Apple (AAPL) recently removed the New York Times (NYT) news app from its Chinese App Store, questions have risen about whether the company has become desperate enough to keep its iPhone market in China (FXI) (MCHI) that it would risk its reputation in the West.
Apple has been battling weak iPhone sales amid tough competition from Samsung (SSNLF) and Chinese brands Huawei, Xiaomi, BBK and Oppo. Chinese brands gained global market share in 3Q16 at the expense of Apple and Samsung.
Article continues below advertisement
According to Apple, the company acted on Chinese government orders when it removed the New York Times app from its digital store in China. But pulling down the news app came at a time when the newspaper was reporting on damaging secret payments made by the Chinese government to a local factory owned by Apple's contract manufacturer, Foxconn.
The move puts Apple's free speech stand to question
While removing the app may buy Apple some peace with the authorities in Beijing and allow it to keep hold of its smartphone market share in China, the censorship move could undermine Apple's claims of protection of free speech and spark a backlash at home.
But Apple isn't the only US (SPY) company that appears to be willing to court Beijing at whatever cost. Facebook (FB) has been rumored to be developing a tool that could be used by authoritarian regimes to censor posts on its social media platform. Some analysts have interpreted Facebook's content filtering tool as an attempt to appease Beijing to unlock the service in China. Notably, Facebook, Twitter (TWTR), and Alphabet's (GOOGL) Google services are all blocked in China.