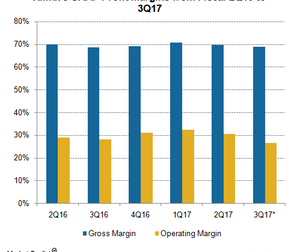 Will Xilinx's Aggressive R&D Spending Impact Short-Term Earnings?
By Puja Tayal

Updated
Xilinx earnings at a glance
As Xilinx's (XLNX) fiscal 2Q17 revenues were made up largely of sales of 20 nm (nanometer) and 16 nm products, the company's profit margins will depend on the product mix and the amount it spends on R&D (research and development).
Article continues below advertisement
Gross margin
Xilinx is a fabless company that outsources manufacturing to TSMC (TSM). In fiscal 3Q16, Xilinx's gross margin fell due to the initial costs of transitioning to 16 nm technology. Still, the margin rose to 70.8% in fiscal 1Q17 as the company started realizing cost benefits.
The company's gross margin fell again in fiscal 2Q17 to 69.6% due to the impact of a licensing agreement with Rambus. This will also impact Xilinx's fiscal 3Q17 gross margin, though its effect should fade with time. Despite this, Xilinx gross margin is higher than that of Nvidia (NVDA) and Lattice Semiconductor (LSCC), which have margins of 59% and 59.5%, respectively.
Xilinx recently forecast that its fiscal 2017 gross margin should be between 68% and 70%. So far, it's on track to achieve this margin, with its fiscal 1H17 gross margin standing at 70.2%.
Xilinx increases its R&D spending
On the operations front, Xilinx's operating margin fell in fiscal 2Q17 as the company increased its operating expenses. It increased its R&D spend by 4.4% sequentially to $142 million. This increased its operating expense by 3.2% sequentially to $227 million. Its operating margin fell from 32.3% in fiscal 1Q17 to 30.5% in fiscal 2Q17. But even at 30.5%, Xilinx's operating margin is almost double the Intel's (INTC) operating margin of 18.3% in its Altera business.
Xilinx will likely keep increasing its R&D spending in fiscal 3Q17 as it develops RAS (reconfigurable acceleration stack) and new products for the 16 nm node. This should increase its operating expense by 8% sequentially to $245 million and reduce its operating margin to 27% in fiscal 3Q17.
The company has projected its fiscal 2017 operating expense to be between $930 million and $950 million. In fiscal 1H17, its operating expenses stood at $447 million. If the company hits this expense target at the midpoint, its operating expense in fiscal 2H17 would be $493 million.
EPS
Xilinx's EPS (earnings per share) came in sequentially flat at $0.61 in fiscal 2Q17. Its EPS will likely fall in fiscal 3Q17 as the company increases spending.
In the next part, we'll see how declining margins could impact Xilinx's short-term cash flows.