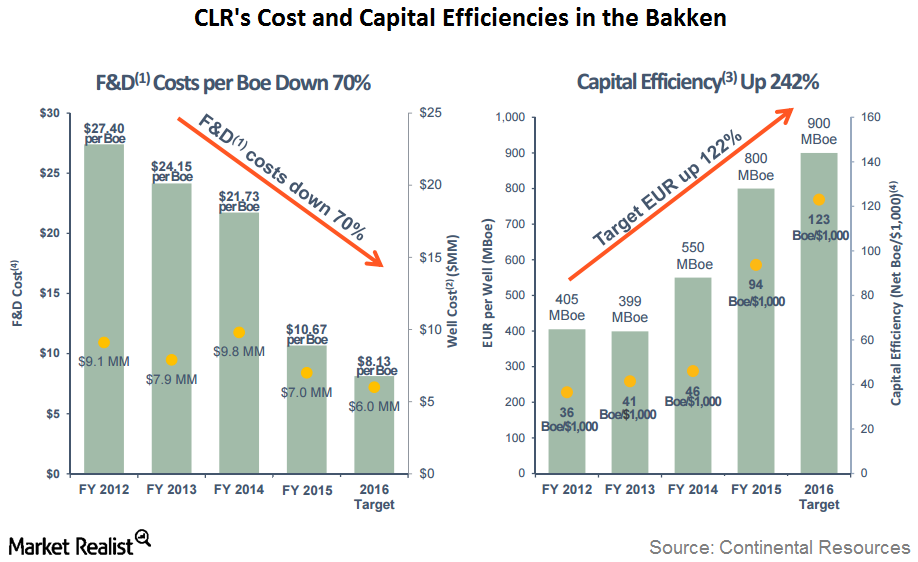 What's Continental Resources Focusing on in 2016?
By Keisha Bandz

Dec. 14 2016, Updated 4:31 p.m. ET
Key management objectives
Continental Resources (CLR) is the largest leaseholder and one of the largest producers in the Bakken Shale, one of the premier oil plays in the United States. Other operators in the Bakken include Whiting Petroleum (WLL), Hess (HES), and Triangle Petroleum (TPLM).
CLR, WLL, and HES make up 4.2% of the iShares US Oil & Gas Exploration & Production ETF (IEO). CLR also operates out of the SCOOP (South Central Oklahoma Oil Province), STACK (Sooner Trend Anadarko Canadian Kingfisher), and Northwest Cana plays.
In this series, we'll focus on Continental Resources' (CLR) performance, fundamentals, and strategies in 2016. Let's begin by looking at one of CLR's objectives.
One of Continental's goals has been increasing efficiency in its Bakken operations. The company is focusing on completing its drilled but uncompleted wells.
Article continues below advertisement
In a press release, Continental CEO Harold Hamm stated that "we brought on several excellent producers in the Bakken using enhanced completion designs, including two wells that generated CLR-record 30-day initial rates for the Bakken. This is an encouraging start as the Company begins working down its large backlog of Bakken uncompleted wells and capturing their value."
CLR expects to have ~175 operating uncompleted wells at the end of 2016. CLR expects this inventory to have an average EUR (estimated ultimate recovery) of ~850,000 boe (barrels of oil equivalent) per well, with an estimated average completion cost of $3.5 million per well. In its press release, CLR stated that "at $50 per barrel WTI[1. West Texas Intermediate] and $3.00 per Mcf[2. thousand cubic feet], the cost-forward rate of return on this incremental capital expenditure is more than 100%." CLR's cost efficiencies, as shown in the graph above, will complement its future activity in the Bakken.
Focus on STACK and SCOOP plays
CLR is also focusing on its operations in the STACK and SCOOP plays in 2016. These regions offer higher returns than many North American plays, including the Bakken. A study by Raymond James on IRRs (internal rates of returns) earlier this year showed that both SCOOP and STACK plays had IRRs of 15%, even at sub-$40 oil prices. CLR sees STACK production as "an increasingly important catalyst" in its production growth strategy.
As a result of its focus on increasing Bakken productivity and the STACK and SCOOP plays, CLR raised its production guidance for 2016, which we'll discuss in the next part of this series.