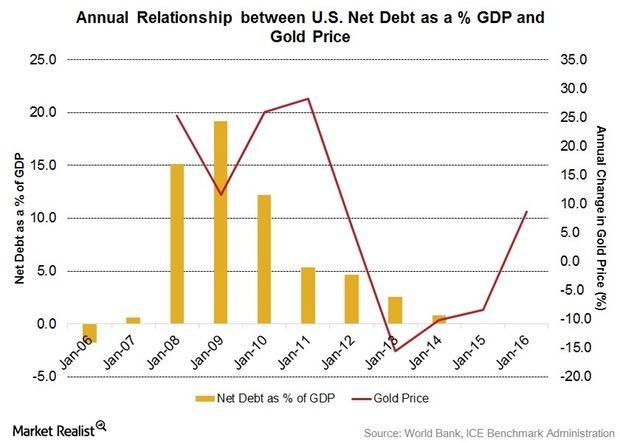 What Might Prevent a US Recession?
By VanEck

Dec. 14 2016, Published 10:27 a.m. ET
Independent of policy specifics, there exists a growing chance our newly elected president will likely preside over the next recession. After eight years of expansion, there are signs that the economy has entered the "late cycle" phase. The Fed's efforts to tighten policy could create a further drag on growth. A recession layered onto the existing risks we see in a Trump presidency, in our view, makes a systemic financial crisis more likely.
Article continues below advertisement
Market Realist – Tax cuts and infrastructure spending implications
As discussed earlier, Trump's victory could be positive for economic growth (IWO) (IWF) in the long run. The economy is expected to expand 2.2% in 2017 and 2.3% in 2018 as fiscal stimulus gears up. Trump's policies of infrastructure spending and tax cuts could boost the US budget deficit. An increase in the budget deficit would be progressive for gold (GLD) (IAU). According to Reuters, "Trump has pledged to tear up or renegotiate international trade agreements, which could set off a wave of protectionism, threatening to stall a tentative global economic recovery."
A combination of tax cuts and higher spending may reduce the risk of the US economy slipping into recession. However, Treasury (TLT) (TBT) bonds (BND) (AGG) could see non-payment if there are budget battles. An inflationary economy suggests faster GDP growth, gains in consumer confidence, and higher productivity.
Market Realist – Financial regulations
Changes to the Dodd-Frank Wall Street Reform and Consumer Protection Act may raise compliance costs of small banks, which may reduce excessive loans (BKLN) for home building activities to combat the housing shortage. However, financial (KRE) (KBE) regulations on large banks such as Goldman Sachs and Wells Fargo may lead to a huge taxpayer bailout.
As Trump plans to end participation in global climate change policies and create new pipelines to boost American coal mining, energy (XOP) (AMLP) stocks have benefited. Additionally, biotechnology, healthcare (IBB) (XLV), and pharmaceutical stocks have performed well due to announcements made by Trump on drug re-importation and shifting the negotiating power to Medicare companies to make drugs affordable. However, giving power to retail Medicare stores may not be beneficial to most drug manufacturing companies.