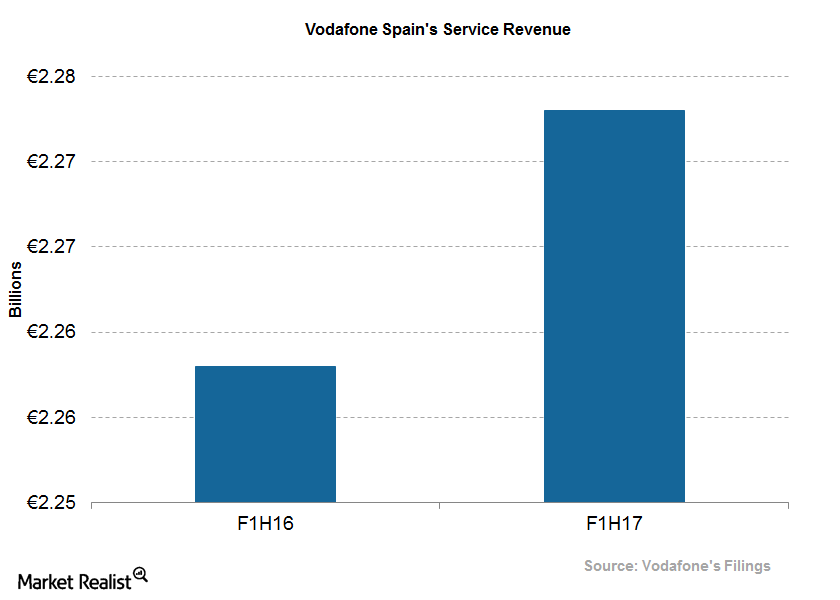 Why Vodafone Spain's EBITDA Margin Keeps Growing
By Ambrish Shah

Dec. 23 2016, Updated 5:05 p.m. ET
Vodafone's service revenue in Spain
Why Is Vodafone India's Performance Slowing Down? At the same time, Vodafone Spain's service revenue rose ~0.7% YoY to ~2.3 billion euros (about $2.4 billion) during the same period. This increase was driven by a larger customer base in mobile and fixed line and the appeal of its "more-for-more" offerings of larger data bundles.
Vodafone is offering more data, but at a slightly higher price in several of its European markets, in an effort to encourage customers to progress further up the data usage curve. As data volume increases, it offsets any fall in price per megabyte of data.
Article continues below advertisement
Meanwhile, the US telecom companies T-Mobile (TMUS) and Sprint (S) have also stepped up competition for subscribers with aggressive pricing techniques. Sprint, for instance, is promising subscribers who defect to its network that they will only have to pay half the price of the plan they have with a former provider. Sprint is paying up to $650 in switching costs per line for defectors.
Organic change
Excluding currency and merger and acquisition impacts—the telecom company's revenue in Spain rose ~0.3% YoY in fiscal 1H17. However, organically, the service revenue here rose ~0.7% YoY during the period.
Vodafone Spain's EBITDA (earnings before interest, tax, depreciation, and amortization) margin rose to 27.7% in fiscal 1H17 from 26.5% in fiscal 1H16. This increase in margin was driven by service revenue growth and lower operating costs, offset by higher content costs.
Mobile customer metrics in Spain
Vodafone Spain's mobile customers reached ~14.5 million at the end of fiscal 1H17. In fiscal 2Q17, on a net basis, the company added around 91,000 contract customers in Spain.
Meanwhile, the company added 74,000 prepaid customers in Spain in fiscal 2Q17, while its fixed broadband customers in Spain reached ~3 million by the end of fiscal 1H17.