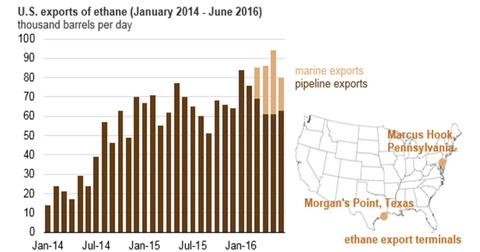 How US Ethane Exports Could Pick Up alongside Natural Gas Exports
By Kurt Gallon

Updated
US ethane exports
So far in this series, we've looked at the recent trend in US natural gas exports. In this article, we'll look at exports of US NGLs (natural gas liquids). Natural gas recovered from a wellhead contains NGLs, including ethane, propane, butane, and natural gasoline that can be separated through fractionation.
Low ethane prices and higher costs for storing and transporting ethane have resulted in ethane rejection. This means that producers leave ethane in the natural gas stream. Extracting ethane isn't always economical when prices are low. The costs of storing and transporting ethane are higher than the related costs for hydrocarbon gas liquids products.
Ethane use by petrochemical companies as a feedstock has increased over the recent years. This has resulted in higher ethane exports to Canada and other destinations. Further, this led to a slight recovery in ethane prices and lower ethane rejection.
US exports ethane from two terminals, Marcus Hook and Morgan's Point Terminal.
Article continues below advertisement
The Marcus Hook Terminal is located in the Northeast region. It has an export capacity of 35,000 bpd (barrels per day) and is owned by Sunoco Logistics Partners (SXL). The terminal is expected to benefit from strong NGL supply from the liquid-rich Marcellus Shale.
Morgan Point was opened by Enterprise Products Partners (EPD) earlier in 2016. It has 200,000 bpd of ethane export capacity. Morgan Point is the first US ethane terminal in the Gulf Coast region
According to the EIA, "With more export capability and growth in domestic petrochemical demand, more ethane is expected to be recovered and brought to market. EIA's Short-Term Energy Outlook projects NGPL production to continue growing, from 3.6 million barrels per day (b/d) in May 2016 to 4.0 million b/d in December 2017. Nearly half of the projected total increase in NGPL production is ethane."
This growth in export capability and domestic demand is expected to benefit midstream companies involved in providing NGL midstream services, including DCP Midstream Partners (DPM), MPLX LP (MPLX), and Energy Transfer Partners (ETP).