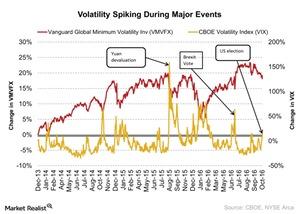 Tilson on Heightened Volatility: Will It Cause a Serious Crisis?
By Sarah Sands

Dec. 21 2016, Published 1:48 p.m. ET
Tilson expects heightened volatility
In the previous part of this series, we saw that Whitney Tilson, founder of Kase Capital Management, is highly skeptical about the recent market rally. We also saw that he's expecting heightened volatility after president-elect Donald Trump takes office in January 2017.
Tilson supported Democratic presidential candidate Hillary Clinton during the US (SPY) (QQQ) presidential campaign.
Although Tilson expects increasing volatility in the future, he doesn't believe there will be any serious crisis like the global financial crisis of 2008 that triggered a huge fall in index levels.
Article continues below advertisement
Major events that have increased volatility in the markets
In the past, we've seen that major events have led to heightened volatility in the markets. In August 2015, China's (YINN) (MCHI) yuan devaluation spooked the market, triggering a huge fall in the index levels.
All global markets (ACWI) (VTI) saw a massive sell-off. The CBOE Volatility Index (or VIX) rose 143.0% during the yuan devaluation. During the Brexit (EWU) vote in June 2016, the volatility index rose nearly 56.0% from June 23–24, 2016. Before the US presidential election, from October 20–November 1, 2016, the volatility index spiked nearly 35.0%.
Tilson does remain bullish on special stocks, however. Let's look at his bullish bets in the next part.