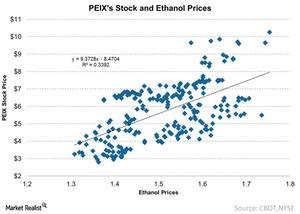 How Much Do Ethanol Prices Impact Pacific Ethanol?
By Adam Jones

Nov. 20 2020, Updated 3:04 p.m. ET
Ethanol versus PEIX stock
Earlier in this series, we saw how ethanol prices have traded this year and what may have caused them to fall in recent weeks. Ethanol prices are quite volatile, and there are regulatory requirements that keep the commodity demand steady.
The correlation of Pacific Ethanol (PEIX) stock with ethanol prices is one metric we can track. It may help us draw some conclusions about the direction of ethanol stocks (VLO) such as REX American Resources (REX), Green Plains (GPRE), and Renewable Energy Group (REGI).
Article continues below advertisement
The (c0r)relation
In the scatter plot above, we can explore how strong the relation is between ethanol prices and Pacific Ethanol stock. On the Y-axis, we've plotted the dependent variable, Pacific Ethanol's share price. On the X-axis, we've plotted the independent variable, ethanol prices.
As you can see, there's a positive relationship with an R-square of 0.34. An R-square closer to 1.0 would indicate a much stronger relationship. While 0.34 may not appear to be a strong positive relationship, it's still statistically significant. It means that the price of ethanol does impact the price of Pacific Ethanol stock.
Why the weak relationship?
Ethanol prices can have a significant impact on ethanol stocks. That's known as price risk. Ethanol companies can mitigate price risk by entering into futures contracts, which may explain why the above relationship isn't strong.
Pacific Ethanol's 10-K report stated, "To mitigate ethanol inventory price risks, we may sell a portion of our production forward under fixed- or index-price contracts, or both. We may hedge a portion of the price risks by selling exchange-traded futures contracts."
The company also stated, "Proper execution of these risk mitigation strategies can reduce the volatility of our gross profit margins. However, given the nature of our business, we cannot effectively hedge against extreme volatility or certain market conditions."
To get more updates, be sure to visit our Agricultural Fertilizers page.