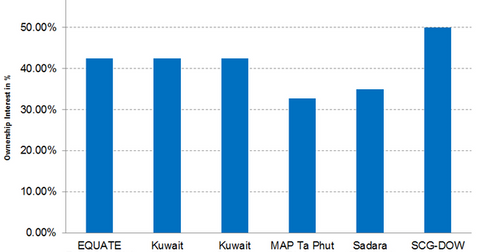 Snapshot of Dow Chemical's Growth Opportunity in Saudi Arabia
By Peter Neil

Updated
Dow Chemical and Saudi Arabia
On November 30, 2016, Andrew Liveris took part in the inauguration of Sadara Chemical Company—a joint venture between Dow Chemical and Saudi Arabian Oil Company (Saudi Aramco). Dow Chemical is the largest foreign investor in Saudi Arabia. It was the first company to receive a trading license from Saudi Arabia's government.
Article continues below advertisement
Sadara and Dow's growth opportunity
Sadara Chemical Company is one of the world's largest integrated chemical facilities with 26 manufacturing units. With different cracking capabilities, the manufacturing facility can produce more than 3 million metric tons of performance plastics and specialty chemical products.
As of December 6, 2016, Dow Chemical holds a 35% stake in Sadara Chemical Company. Sadara already commissioned three polyethylene trains and started to ship polyethylene to ~100 clients in 25 different countries. At the end of 3Q16, Dow Chemical had $424 million notes receivable from Sadara Chemical Company—reflected as non-current receivables. Dow Chemical borrowed $831 million in 2016 to develop the Sadara project. It also converted $880 million in debt into equity.
From the Sadara facility, Dow Chemical produced products that weren't manufactured in the region before. It will give Dow Chemical an opportunity to become the leader in the region. Dow Chemical is in talks with Saudi Arabia to explore future business opportunities in the region. The company already has several joint ventures in this region. It indicates that Dow Chemical looks at Saudi Arabia as a major revenue-driving force in the near future.
Notably, investors can hold Dow Chemical indirectly by investing in the iShares Edge MSCI Multifactor Materials ETF (MATF). MATF invested 9.20% of its portfolio in Dow Chemical. The fund's other holdings include LyondellBasell (LYB), DuPont (DD), and Monsanto (MON). They have weights of 6.20%, 6.0%, and 4.60% as of December 6, 2016.
In the next part, we'll discuss analysts' ratings for Dow Chemical.