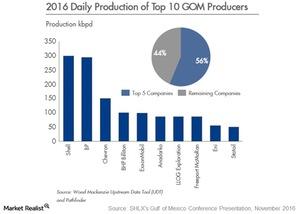 How SHLX Benefits from Shell's Production in the Gulf of Mexico
By Rekha Khandelwal, CFA

Dec. 29 2016, Updated 10:36 a.m. ET
Shell's production in the Gulf of Mexico
According to a recent Shell Midstream Partners (SHLX) presentation, Shell is the largest producer in the Gulf of Mexico. The top five producers contributed to 56% of the total daily production in the Gulf of Mexico in 2016.
The chart above shows the top ten Gulf of Mexico producers by daily production. SHLX generates a majority of its revenues under long-term agreements by charging fees for the transportation and storage of crude oil and refined products through its pipelines and storage tanks.
SHLX, an infrastructure provider that also transports non-affiliate volumes, benefits from sponsor's production, and third-party production. Additionally, the EIA (U.S. Energy Information Administration) has projected that Gulf of Mexico production could increase in 2017.
Article continues below advertisement