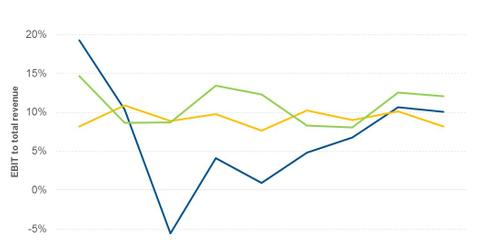 Shake Shack Posted Higher Margins than Peers in 3Q16
By Rajiv Nanjapla

Updated
EBIT margins
EBIT (earnings before interest and tax) are key to investment decisions because they indicate the efficiency of a company's business. EBIT also affects EPS (earnings per share) and should ultimately drive share prices. All three companies' EBIT margins fell in 3Q16 despite lower commodity prices.
Article continues below advertisement
Shake Shack's EBIT
Shake Shack (SHAK) posted EBIT margins of 12.3% compared to 14.6% in 3Q15. The increase in labor expenses, occupancy expenses, and other operating expenses offset the fall in food and paper costs as well as G&A (general and administrative) expenses, so the company posted a decline in its 3Q16 EBIT margins.
Shake Shack was followed by Panera Bread (PNRA), which posted EBIT margins of 7.7%. In 3Q15, the company posted EBIT margins of 8.2%. The margins contracted due to a rise in depreciation and amortization expenses, G&A (general and administrative) expenses, and labor costs, which offset the decline in the cost of food and paper products and occupancy expenses.
Chipotle (CMG), which continues to struggle with its same-store sales growth, posted an EBIT margin of 3.4% compared to 19.3% in 3Q15. The contraction in Chipotle's EBIT margins was largely due to sales deleverage caused by SSSG of -21.9%. The EBIT was also impacted negatively by an increase in expenses due to new food safety measures, a rise in labor wages, and an increase in marketing and promotional expenses.
Outlook
In the next four quarters, analysts are expecting Shake Shack to post EBIT margins of 10.5% compared to 11.1% in the corresponding quarters of the previous year. The rise in labor and occupancy expenses are expected to drive the company's margins down.
However, during the same period, analysts are expecting the EBIT margins of Chipotle and Panera to improve to 8.2% and 9.4%, respectively, from 2.8% and 9.3% in the corresponding quarters of the previous year.
Next, we'll look at fast casual restaurants' EPS in 3Q16.