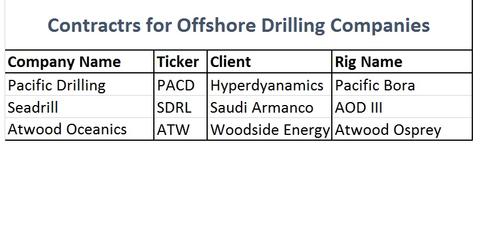 Seadrill Gets Contract Extension with Saudi Aramco
By Sue Goodridge

Updated
Contract extension
On December 29, 2016, Seadrill (SDRL) announced that it has secured a three-year contract extension from Saudi Aramco for its jackup AOD III. Seadrill has a long-term relationship with Saudi Aramco. The contract will now extend to December 2019. The rig has been working for Saudi Aramco since 2013.
With this contract extension, Seadrill has added $112.5 million to its contract backlog. According to a Reuters calculation, the day rate for the contract is $102,740 per day compared to the current rate of $114,000 per day.
Below are the developments that have taken place since the start of 4Q16:
Article continues below advertisement
West Phoenix was awarded a 90-day contract with Total in the United Kingdom. The backlog for the contract is estimated at $17.0 million.
West Saturn has a one-well contract at $225,000 per day with ExxonMobil, which has increased Seadrill's backlog by $9.0 million.
Seadrill has agreed to reduce the total remaining contract value on West Jupiter by $144.0 million.
What peers are doing
Let's take a look now at some contract updates for other offshore drillers (IYE).
At the start of December, Seadrill Partners (SDLP) received a notice of termination from Tullow in Ghana for the West Leo drilling contract.
Pacific Drilling (PACD) signed a contract with Hyperdynamics to drill an offshore Guinea prospect. Pacific Drilling's drillship Pacific Bora will begin drilling in the second quarter of 2017.
Atwood Oceanics (ATW) has secured a new one-well drilling contract with Woodside Energy for its ultra-deepwater rig Atwood Osprey. The contract will begin between May 24, 2017, and July 7, 2017. The duration of the contract is approximately 130 days. The day rate for the contract is $185,000 per day.