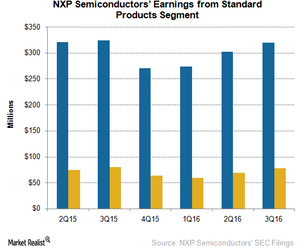 How NXP's Sale of Its Standard Products Division Could Affect It
By Puja Tayal

Updated
NXP divests Standard Products division
Earlier in the series, we saw that NXP Semiconductors (NXPI) is focusing on its HPMS (High Performance Mixed Signal) segment, as it looks to grow in the automotive and IoT (Internet of Things) spaces. However, one segment it's been looking to divest following its Freescale acquisition is its STDP (Standard Products) division. The division offers standardized discrete semiconductors, logic, RF (radio frequency), analog, and power management ICs (integrated circuits).
Article continues below advertisement
In June 2016, NXP decided to sell this division to China's (MCHI) JAC Capital (Jianguang Asset Management) for a consideration of $2.8 billion. It's on track to complete the sale by 1Q17. The deal will include the transfer of the division's IP (intellectual property), two fabrication facilities in the United States, back-end facilities in China, Malaysia, and the Philippines, and equipment manufacturer ITEC to JAC.
Standard Products division's earnings
STDP is NXP's low-margin division, whose only way of earning profits is through volumes. The STDP division's non-GAAP (generally accepted accounting principles) gross margin of 34.1% and operating margin of 24.4% in 3Q16 were lower than the HPMS division's gross and operating margins of 53.9% and 29.3%, respectively.
With revenues of $320 million, STDP accounted for 13% of NXP's revenue. The company is divesting this division in order to improve its margins.
How will the divestment of STDP impact NXP's earnings?
NXP expects to improve its non-GAAP gross margin from 50.2% in 3Q16 to ~53% by 4Q17. It expects to improve its operating margin from 27.5% to 31% during the same period. This improvement could come as the company reduces its costs arising from the divestment of STDP.
Over a three-year period from 2016 to 2019, NXP expects its revenue to grow at a CAGR (compound annual growth rate) of 5%–7%, its non-GAAP gross margin to grow between 53% and 57%, and its non-GAAP operating margin to grow between 31% and 34%.
The company expects to achieve this margin by limiting its operating expenses to 14%–16% for R&D (research and development) and 6%–8% for SG&A (selling, general, and administrative).
The above forecast is based on the assumption that the company continues to realize merger synergies. However, it's unclear whether this includes the effect of NXP's acquisition by Qualcomm (QCOM), which is expected to be completed by the end of 2017.
Meanwhile, NXP's margins are likely to improve in 2017, which in turn could improve its free cash flow. We'll look into this in the next part of the series.