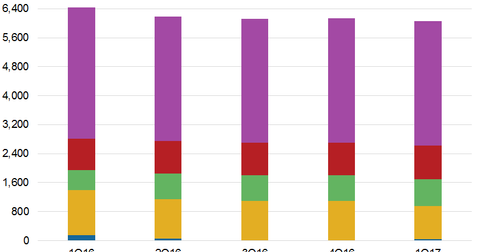 Prospect and Ares Target Innovative Fundraising Methods
By Robert Karr

Updated
Fundraising
Closed-end funds raise funds via either leverage or stock offerings. Companies tend to keep their leverages in check in the wake of expected rate hikes. Equity offerings look unattractive in a majority of these cases, as net asset values are either on par with or higher than current stock prices.
Due to higher competition among closed-end funds for new originations, capital availability remains fluent. However, as companies expand into new areas, capital availability will have to be addressed.
Monetization
Prospect Capital (PSEC) is valued at lower multiples than its competitors and the broader market (SPY). The company is targeting the select monetization of business divisions in a bid to raise capital and invest in asset classes that yield higher returns. Prospect Capital yielded returns of above 9.5% on its book equity in fiscal 1Q17 on an annualized basis. This amount was higher than the peer average of 9% during the same period.
In comparison, Apollo Investment (AINV) is focusing mainly on less risky investments by exiting riskier investments and deploying funds according to its renewed strategy.
Ares Capital's SDLP
After closing its partnership with GE Capital, Ares Capital (ARCC) is slowly building up a new senior direct lending program (or SDLP). Under the new program, Ares will make senior secured loans to middle market companies. The company aims to build strong relationships with other financial sponsors and companies. The company is building up this new program in partnership with Varagon and AIG (AIG).
On September 30, 2016, the funded SDLP portfolio totaled $929 million. The program consisted of ten first-lien, senior-secured loans to various companies. The program has an investment limit of $2.9 billion, with a limit of up to $300 million in one company.
In the next article, let's look at the interest rates and balance sheets of various closed-end funds.
Article continues below advertisement