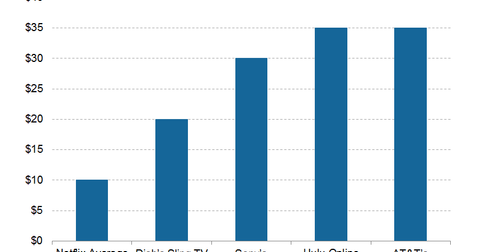 Pricing Analysis of AT&T's DIRECTV Now
By Ambrish Shah

Updated
AT&T's DIRECTV Now priced at $35 per month
AT&T's (T) DIRECTV Now over-the-top (or OTT) video streaming service, launched in November 2016, features over 100 channels. AT&T penetrated this market, which includes Verizon's (VZ) OTT offering, go90. At a Senate hearing this month regarding the AT&T-Time Warner (TWX) deal, AT&T CEO Randall Stephenson defended the $35-a-month retail pricing of AT&T's DIRECTV Now offering.
According to a Wall Street Journal report, Stephenson "says millions of households have dropped having pay TV service as costs rose, so AT&T sought to find a price that would draw them back in. But they are well aware that raising prices beyond that 'sweet spot' would cause those customers to walk away once again. (To be fair, AT&T has acknowledged that the price of DirecTV Now could rise as content costs rise)."
Article continues below advertisement
Comparing AT&T's pricing
As shown in the above graph, Netflix's (NFLX) plans average around $10 per month, and Hulu's online television service is expected to cost $35 per month. DishTV (DISH) offers 30 channels of streaming TV on its Sling TV service for $20 a month. Sony (SNE) offers over 50 channels of streaming TV on its PlayStation Vue service for $30 a month.
At the Goldman Sachs Communacopia Conference in September, Netflix admitted that although it was underpriced compared to its peers, it believes this underpricing has been "balanced to some degree in terms of the price that consumers have been anchored on Netflix."