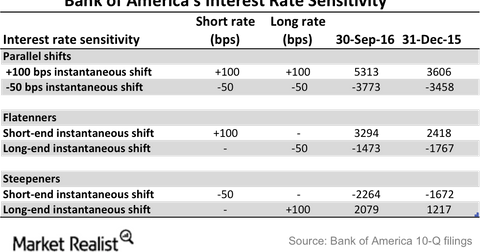 Interest Rate Hikes Could Boost Bank of America's 2017 Margins
By Rebecca Keats

Dec. 21 2016, Updated 3:35 p.m. ET
Bank of America's interest rate sensitivity
Bank of America's earnings are extremely sensitive to interest rate changes. Low interest rates weighed on the bank's top line in the third quarter of 2016. The bank is now pleased with the Fed's decision in December to raise interest rates.
US banks (XLF) started 2016 expecting four rounds of rate hikes during the year. But there was only one rate hike, and that one didn't come until December.
Article continues below advertisement
Net interest income and margins
Net interest income forms ~50.0% of Bank of America's total income and is one of the largest sources of the bank's revenues. A 100-basis-point increase in interest rates would lead to a rise of $5.3 billion in the bank's earnings, which many believe would lead to economic growth across industries.
In the third quarter of 2016, Bank of America reported net interest margins of 2.2%, which was 4 basis points higher than a year ago. Net interest income rose to $10.2 billion. In order to reduce volatility of interest-sensitive items, the bank restated its earnings under FAS91 at the beginning of this quarter. That also helps peer comparisons.
Bank of America isn't alone in its struggle to boost earnings without help from higher interest rates. Its falling profits, despite loan growth, is similar to peers that have reported third-quarter results, including JPMorgan Chase (JPM), Wells Fargo (WFC), and Citigroup (C).