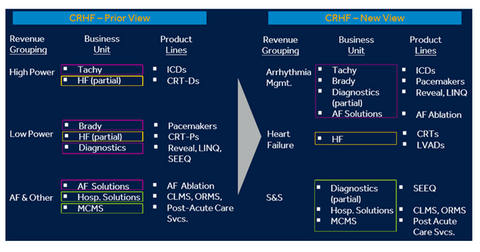 HeartWare's HVAD System Accelerates Medtronic's Growth in Europe
By Sarah Collins

Updated
CE Mark approval
On November 29, 2016, Medtronic (MDT) announced the CE Mark approval for its HVAD (Heartware ventricular assist device) left ventricular assist device (or LVAD) for less invasive implant procedures. It's the only CE Mark approved centrifugal LVAD for implantation via a thoracotomy procedure. According to MedicineNet, a thoracotomy is "an operation to open the chest, usually in order to gain access to the lungs or heart."
Edwards Lifesciences (EW), Boston Scientific (BSX), and St. Jude Medical (STJ) are some of Medtronic's key competitors in this segment. Investors who want to gain exposure to Medtronic can invest in the iShares Russell 1000 Value ETF (IWD), which holds ~0.92% of its total holdings in MDT.
Article continues below advertisement
HVAD system
The HVAD system is the flagship product of HeartWare International, the acquisition of which was completed by Medtronic in August 2016. For more on this acquisition, read Medtronic's HeartWare Acquisition: The Must-Know Details. HeartWare was included in Medtronic's CRHF (Cardiac Rhythm & Heart Failure) division under its CVG (Cardiac & Vascular Group) business, which underwent a structural change as shown in the diagram above.
According to Medtronic, more than 11,000 patients suffering from advanced heart failure have received HVAD systems to date. A study of the use of HVAD systems via thoracotomy procedure is ongoing in the United States and Canada.
According to David Steinhaus, MD, of Medtronic, "The HVAD System is the only full-support, centrifugal LVAD approved in Europe for thoracotomy implantation, providing clinicians with greater freedom to choose the best surgical technique for each patient. CE Mark for the thoracotomy procedure is a testament to the HVAD System's flexibility and versatility, and may enable more patients to receive the life-sustaining benefit of the device for the treatment of advanced heart failure."
Benefits over traditional approach
According to Medtronic, the use of the HVAD system for less invasive procedures is expected to yield better and more efficient outcomes. Compared to the standard LVAD surgical implant technique, the HVAD system uses a smaller incision and lessens surgical bleeding.
The new procedure is expected to reduce the chances of the development of right heart failure and should result in shorter hospital stays. The thoracotomy implantation technique is expected to preserve the sternum for future procedures or a heart transplant, as it may allow the area around the heart to remain largely intact.
In the next article, we'll look at the reimbursement approval and launch of CoreValve Evolut R in Japan.