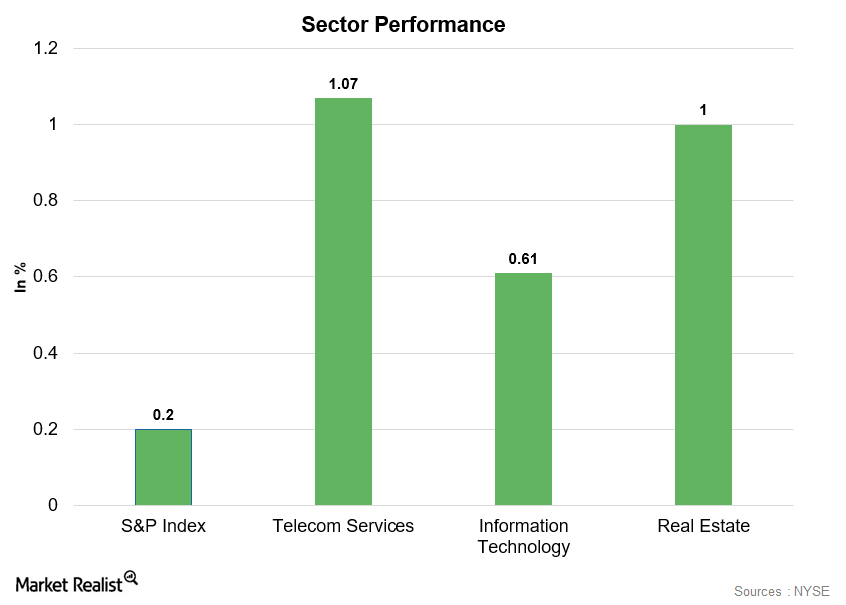 Globalstar Rose as the FCC Reviews Its Revised Proposal
By Val Kensington

Dec. 20 2016, Published 8:56 a.m. ET
S&P 500
The S&P 500 posted moderate gains on December 19. It had a stable start at the beginning of the week. The real estate, telecommunication, and information technology sectors supported the S&P 500. Amid lower volumes, the S&P 500 rose 0.2% to 2,262.53—a gain of 4.46 points. It moved closer to an all-time high close of 2,271.72. Nasdaq rose by 20.28 points (0.37%) to 5,457.44, while the Dow Jones Industrial Average rose by 39.65 points (0.2%) to 19,883.06—near the important level of 20,000.
Article continues below advertisement
The S&P 500 VIX index or CBOE Volatility Index measures uncertainty in the market. On December 19, the VIX fell 4.0% to 11.71—a fall for the third consecutive trading day. It's measured on a scale on 1–100 with 20 as the historical average. The lower volatility index reading represents upbeat conditions in the market. The CBOE VIX generally falls when the S&P 500 rises.
Telecom services sector
The S&P 500 Telecom Services sector rose 1.1% on December 19. After performing stronger for two consecutive trading weeks, the telecom sector rallied to the highest levels since mid-August on December 19. Globalstar (GSAT) and Iridium (IRDM) were the top performers in the telecom sector. Globalstar, which is a low-earth orbit satellite-based digital telecommunications systems provider, rose 28.6% on December 19. Earlier this year, Globalstar proposed a plan to use satellite signals' frequencies for mobile broadband services. However, the plan was turned down by the FCC commission. Globalstar provided a new proposal with modifications. News that the FCC drafted revised orders for Globalstar's proposal sent prices higher on Monday.
Information technology sector
The S&P 500 Information Technology sector rose 0.61% on December 19. After consolidating last week, the information technology sector gained ahead of the meeting between Donald Trump and Silicon Valley CEOs this week. The meeting will be held on December 21. Most of Trump's policies such as his stance on H-1B work visas and renegotiating free trade deals aren't supported in the Silicon Valley. Lam Research (LRCX) and CA (CA) were the best performers in information technology sector. Lam Research is a semiconductor manufacturing equipment provider. It rose 2.5% to 106.99. The higher rating by Goldman Sachs supported Lam Research.