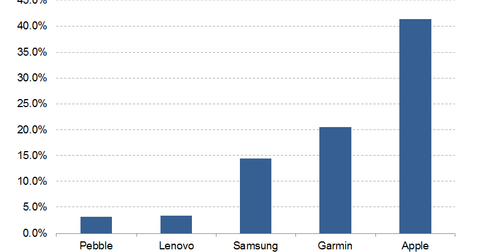 Will Pebble Acquisition Make Fitbit More Competitive against Apple?
By Ruchi Gupta

Nov. 20 2020, Updated 9:18 p.m. ET
Acquiring Pebble could make Fitbit more competitive
Fitbit (FIT) has inked a deal to harvest certain Pebble assets as Pebble shuts down operations amid stiff competition in the smartwatch market. Smartwatch shipments fell 51.2% in 3Q16.
However, Fitbit's move to acquire Pebble assets could cause problems for Apple (AAPL). Pebble and Apple compete in the smartwatch market. While Fitbit has a clear lead in the fitness tracker market, Apple is leading in the smartwatch space. By adding Pebble assets to its portfolio, Fitbit could develop enhanced fitness devices that could give Apple a run for its money in the smartwatch market.
Fitbit is already a popular brand in the wearable tech space. Whether it chooses to build more smartwatch capabilities into its existing line of trackers or rolls out a standalone smartwatch, the company's solid brand position gives it a head start against many competitors.
Article continues below advertisement
Apple under pressure
Outside Pebble, Apple's other smartwatch competitors are Samsung (SSNLF) and Garmin (GRMN). Fitbit could stir competition in that market. But stiffer competition in the smartwatch market could derail Apple's attempts to unlock new revenue streams as it struggles with dwindling iPhone fortunes.
Apple has reported a revenue decline in the last three quarters in a row as the iPhone faces tough competition in key markets like China. Huawei, Oppo, and BBK are threatening to turn the tables on Apple and other foreign brands in China's premium smartphone market.
But Fitbit's apparent smartwatch ambitions don't help matters for Apple. The company is betting on new products and services like Apple Watch, Apple Music, and Apple Pay to not only diversify its revenue streams, but also return it to top-line growth.
If Fitbit doesn't take aim at Apple's Apple Watch with Pebble assets it's acquiring, it could use the acquired technologies to further differentiate its fitness trackers from the competition. Fitbit is fighting for control of the fitness wearable market with Microsoft (MSFT), Jawbone, and Nike (NKE).