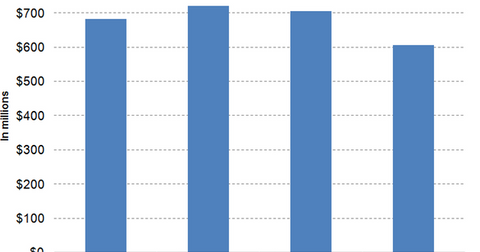 AstraZeneca's Faslodex Expected to Benefit from FALCON Trial Data
By Margaret Patrick

Jan. 2 2017, Updated 10:36 a.m. ET
Faslodex indications
On April 25, 2002, AstraZeneca's (AZN) Faslodex (fulvestrant) was approved by the FDA (U.S. Food and Drug Administration) as a treatment option for postmenopausal women suffering with estrogen-receptor-positive locally-advanced or metastatic breast cancer. The injection was administered to patients who witnessed disease progression despite receiving anti-estrogen therapy.
On March 2, 2016, combination therapy Faslodex and palbociclib was approved by the FDA as a treatment option for women suffering with hormone-receptor-positive (or HR+) human epidermal growth factor receptor 2 negative (or HER2) metastatic breast cancer. Faslodex is already approved in about 80 countries.
The above graph shows revenues earned by Faslodex since 2013.
Article continues below advertisement
Positive clinical trial data
On May 27, 2016, AstraZeneca (AZN) declared that Faslodex 500 mg (milligram) demonstrated a superior clinical profile compared to Arimidex 1 mg in FALCON, a Phase 3 trial, when administered to postmenopausal women suffering with locally advanced or metastatic HR+ breast cancer. Based on data from the FALCON trial, AstraZeneca submitted an application in Japan in 3Q16 seeking regulatory approval for Faslodex as a first-line therapy for HR+ breast cancer.
Since Arimidex is the current standard of care as a first-line therapy for HR+ breast cancer in postmenopausal women, data from the FALCON trial are expected to have a significantly strong positive impact on Faslodex's future revenue growth. The data may also boost the share prices of AstraZeneca as well as the BLDRS Developed Markets 100 ADR ETF (ADRD). AstraZeneca makes up about 1.9% of ADRD's total portfolio holdings.
AstraZeneca also plans to test a combination therapy of Faslodex and durvalumab for patients suffering with triple-negative breast cancer in Phase 2 trials. Faslodex may thus enable AstraZeneca to pose strong competition to other breast cancer therapy players such as Pfizer (PFE), Merck & Co. (MRK), and Eli Lilly (LLY).