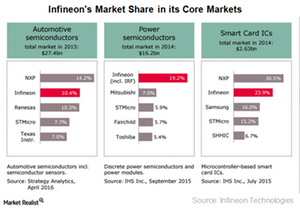 What External Challenges Would a Qualcomm-NXP Merger Face?
By Puja Tayal

Updated
Qualcomm-NXP merger faces external challenges
In the previous part of the series, we saw that NXP Semiconductors (NXPI) is set to become the third-largest semiconductor company in the world upon integrating with Qualcomm (QCOM). Unlike other mergers, this merger has been received well by both companies' shareholders and analysts, as it brings growth synergies.
At the same time, there are several things that could go wrong. The success of the merger depends on two major things: effective integration and a favorable market environment. So far, the automotive market environment looks favorable, with growth picking up. However, NXP could face a challenge from its close rival Infineon if there are any delays or inefficiencies in the integration.
Article continues below advertisement
Is Infineon a threat to NXP and Qualcomm?
Infineon Technologies competes with NXP in the automotive semiconductor and smart IC (integrated circuit) markets. In the automotive semiconductor space, NXP commands a 14.5% market share against Infineon's 10.4% market share, according to Strategy Analytics.
This difference in market share exists because NXP has a strong lead over Infineon in the automotive MCU (microcontroller) segment, which is a $6.5 billion market. Infineon has a slight lead over NXP in the automotive power and sensor segments, which constitute a combined $11.3 billion market.
If NXP shifts all its focus to integration with Qualcomm, Infineon could get a chance to take the lead in the automotive market by focusing on drivetrain solutions for EVs (electric vehicle). According to McKinsey, drivetrain for hybrid cars contains ten times more semiconductor content than an internal-combustion drivetrain. Infineon has a strong 27.6% market share in the insulated-gate bipolar transistors used in these hybrid drivetrains. By growing in the EV space, Infineon could take the lead over NXP in the automotive market in the long run.
A similar thing happened in the case of Xilinx (XLNX) and Altera. When Intel (INTC) acquired Altera in 2015, it shifted its focus toward integration, giving Xilinx a chance to get a one-year technological lead over Altera. This lead helped Xilinx improve its earnings while Altera posted losses.
Apart from external challenges, Qualcomm-NXP integration faces several internal challenges, which we'll discuss in the next article.