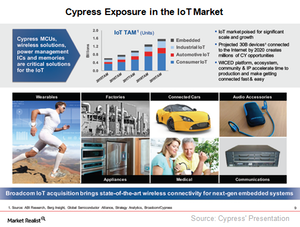 How Cypress's Business Transition Revolves around IoT
By Puja Tayal

Dec. 4 2020, Updated 10:53 a.m. ET
IoT market trend
The automotive and industrial industries are the fastest growing verticals of IoT (Internet of Things) among several others, including medical, wearables, and appliances with systems inside them. Cypress Semiconductor (CY) is targeting these latter markets as well.
IoT is a technology that connects all devices, big and small, to the Internet, thereby improving flexibility and accessibility to the information. There are five parts to this market: software, hardware, connectivity, security, and solutions, according to McKinsey. Bain expects sales from all IoT verticals to exceed $470 billion by 2020. IHS forecasts that the number of IoT devices will increase from 15.4 billion in 2015 to 30.7 billion in 2020 and to 75.4 billion in 2025.
Article continues below advertisement
Cypress's strengths
Each IoT device is equipped with memory, an MCU (microcontroller), wireless connectivity, and sensors. This represents a direct growth opportunity for Cypress because the company provides all four components. These components could function together in a SoC (system-on-a-chip) designed specifically for the IoT.
Application-specific solutions?
Cypress's acquisition of Broadcom's (AVGO) wireless IoT (Internet of Things) business would give it access to the latter's WICED (wireless Internet connectivity for embedded devices) SDK (software development kit) that allows engineers to design sophisticated connections. This would help Cypress deliver a complete hardware and software embedded solution for specific applications.
Article continues below advertisement
Opportunities and challenges for Cypress
While Cypress' IoT strategy is more focused on the system inside the device, Intel's (INTC) and Qualcomm's (QCOM) IoT strategies' are more focused on the IoT infrastructure. Intel is building network and cloud infrastructure to collect, process, and analyze data, whereas Qualcomm is looking to build the 5G technology that can connect multiple devices to the high-speed internet. So while Cypress may face competition from Intel and Qualcomm in IoT, it may not be direct.
Cypress is looking to implement this new model starting in fiscal 2017, which means that all the preparation has to be completed by fiscal 2016. In the next few parts of this series, we'll examine the efforts Cypress has taken already in fiscal 2016 to transform the company, as well as the impact of these efforts on the company's earnings.