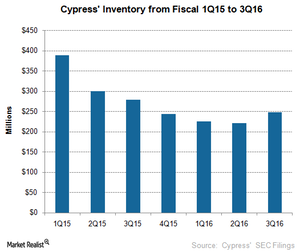 What Does Cypress's Balance Sheet Say About Its Short-Term Liquidity?
By Puja Tayal

Updated
Cypress's short-term liquidity at a glance
In the preceding part of the series, we discussed how Cypress Semiconductor's (CY) leverage has restricted its long-term investment capability. However, its cash reserve of less than $100 million has also strained its short-term liquidity, and so the company kept a $213 million revolver credit as a backup. Let's look now at other balance sheet items that show the company's short-term position.
Article continues below advertisement
Cash flow
After the Spansion merger, Cypress's operating cash flow was in the range of $9 million–$42 million. However, in fiscal 3Q16, Cypress generated operating cash flow of $105.1 million, which represented a tenfold increase from its fiscal 2Q16 operating cash flow of $9 million and the highest since the Spansion merger.
This cash flow was boosted by the integration of Broadcom's (AVGO) wireless IoT (Internet of Things) business. Cypress aims to generate an operating cash flow of $150 million through incremental cash flow brought from the IoT acquisition.
Shareholder returns
In fiscal 3Q16, Cypress spent $35.2 million in dividend payments but stalled its share buyback program and directed the cash flows toward debt repayment. The company may start a buyback program after reaching its target debt-to-adjusted EBITDA (earnings before interest, tax, depreciation, and amortization) ratio of 2.6x.
Cypress's huge debt and strong product portfolio make it an attractive acquisition target. However, the company is not looking for a buyout offer. It recently rejected buyout offers from three private equity firms. But this still doesn't preclude the possibility of an acquisition. ARM Holdings (ARMH), Brocade (BRCD), and NXP Semiconductors (NXPI) were not looking for a buyout offer but agreed to get acquired, because the offer was appealing.
Inventory
Cypress managed to reduce its inventory days to 71 in fiscal 3Q16, which is in line with its target model inventory of 65–70 days. Since the Spansion merger, Cypress has reduced its inventory by 41% or $160 million. This figure excludes the $19 million in inventory brought by the IoT acquisition.
Cypress aims to maintain its inventory at the current level, which means its gross margin would now be a factor of consumer demand and product mix.
Overall, then, fiscal 2017 looks to be the year wherein Cypress's strong product portfolio and exposure to growth areas should bring strong earnings. But the company faces a threat from its cash-rich competitors and macroeconomic headwinds as high leverage and low margins strain its liquidity.