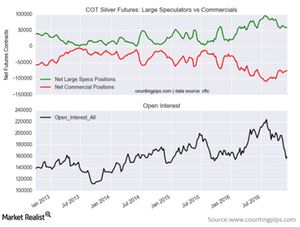 Commercial and Non-Commercial Positions in Silver Are Falling
Commercial and non-commercial positions
Precious metals have been falling over the past three weeks, and the CFTC (Commodity Futures Trading Commission) showed falling positions. However, according to the latest Commitment of Traders (or COT) data released last Friday, large speculators and traders slightly raised their net positions in the silver futures market.
The non-commercial futures traded by large speculators and hedge funds totaled a net position of 59,365 contracts. This was a weekly change of 325 contracts from the previous week, which had a total of 59,040 net contracts. The hedgers and traders engaged in buying and selling for business purposes saw a decline of 295 contracts from the previous week's net 75,445 contracts.
Article continues below advertisement
Silver shares and funds
As seen in the above chart, the open interest in silver has also fallen considerably since Trump's victory. The increased negative sentiment in silver may likely be the reason behind the fall in price.
Silver-based mining funds like the Global X Silver Miners Fund (SIL) have been negatively impacted by the drop in silver prices. Also, the leveraged ProShares Ultra Silver (AGQ) has been tumbling. These two funds dropped 12.7% and 18.3%, respectively, on December 5. Silver miners have been in a better position than other precious metal miners.