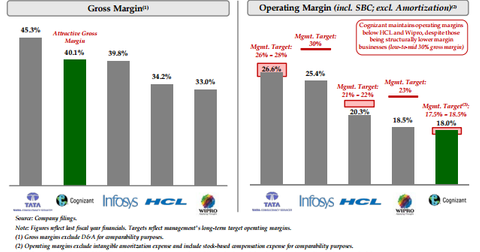 Will Cognizant Benefit from Elliott Management's Intervention?
By Anne Shields

Updated
Elliott Management's value-enhancement plan
Elliott management's high stake and recent stimulus to Cognizant's (CTSH) stock is part of a plan to push the stock to $80–$90 per share by the end of 2017.
According to Elliott Management's open letter, although Cognizant is a leader in the IT (information technology) services space, the company has exhibited a "deep underperformance across all relevant benchmarks, including its closest peers, over all time periods during the last five years."

In an open letter to Cognizant, Elliott Management devised a three-part "value-enhancement plan" that encompasses fundamental operational enhancements efficient capital allocation "effective oversight and incentive alignment."
Article continues below advertisement
This plan asks Cognizant to raise additional debt and initiate a $2.5 billion in an accelerated share repurchase program. Notably, share buybacks are preferred by technology companies, in particular, because they reduce the amount of shares outstanding and increase EPS (earnings per share). This preference explains why the IT sector came in second place in YoY (year-over-year) share reductions in 2015.
Cognizant will also allocate more to fund its R&D (research and development) and engage in M&As (mergers and acquisitions). Of course, spending on R&D drives success in innovation and breakthrough technologies.
Elliott expects Cognizant's adjusted operating margin to be 23.0% in fiscal 2018, as compared to a 19.7% in fiscal 2015.
Industry analysts and Cognizant
Streetinsider.com, citing Moshe Katri of Wedbush Securities, stated of Cognizant's value-enhancement plan: "We believe such near-term stock gains will sacrifice the company's future outlook."
Katri also reportedly stated: "We believe the actions outlined in the letter ignore the ongoing tsunami disrupting the IT Services sector (revenue cannibalization of legacy services, skill base reset into SMAC) and the subsequent actions needed for Cognizant to undertake in order to stay relevant competitively."
Notably, the SMAC (social, mobile, analytics, and cloud) revolution is changing today's IT scenario in favor of the cloud. As a result, the outsourcing industry—where Cognizant currently operates—is changing rapidly, shifting focus from low-cost labor overseas to digital automation.