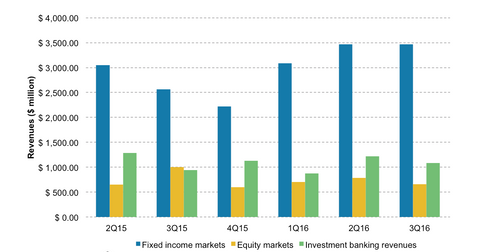 Citigroup's Outlook for Fourth Quarter Performance
By Rebecca Keats

Updated
Citigroup's 4Q16 outlook
Citigroup Chief Financial Officer John Gerspach shared his outlook for the fourth quarter at the Goldman Sachs (GS) financial services conference last week. The bank expects trading revenues to grow 20% in 4Q16, driven by increased trading activities. Peers Bank of America (BAC) and J.P. Morgan (JPM) expect gains of ~15% in trading revenues during the quarter.
"We had a lot of good client activity coming out of the Brexit vote," Gerspach said, speaking at the Goldman Sachs (GS) financial services conference. "Coming out of the election…client engagement stayed very, very high."
Citigroup anticipates a seasonal decline in mortgages in the fourth quarter, in addition to year-over-year revenue growth and positive operating leverage in the international consumer business. On the cost front, Citicorp's business expenses are likely to decline on a sequential basis.
Article continues below advertisement
Heightened volatility
At an industry conference (XLF) last month, Citigroup President Jamie Forese said that the bank's trading desk was boosted by heightened volatility following Trump's surprising victory at the presidential elections. Forese, who runs Citigroup's institutional business also mentioned that they are midway into the fourth quarter, and "There's plenty to play out still."
The bank also mentioned that trading revenues would be slightly lower than in the previous quarter, when they benefitted from the Brexit vote and uncertainty over a Fed rate hike.
Fixed income, currencies, and commodities trading revenues
In 3Q16, Citigroup's (C) fixed income, currencies, and commodities trading revenues rose 35% to $3.5 billion, while equity trading revenues fell $788 million year-over-year. Overall, trading revenues grew 16% to $4.1 billion, beating the company's forecast of mid-teens growth. During the third quarter earnings call, Citigroup Chief Financial Officer Marianne Lake also shared her outlook for the fourth quarter. In the consumer banking business, the bank expects revenue growth across Asia, Latin America, and North America.
The bank's cost of credit, however, will likely rise in the fourth quarter, as credit costs would normalize compared to the previous quarter. Net credit losses are meanwhile expected to grow due to losses in the Costco portfolio and the impact of volume growth. Notably, the Citi Holdings business is expected to breakeven in the fourth quarter.